Dog Friendly Restaurants
Address:
8319 Bell Creek Rd #B
,
Mechanicsville
,
VA
23116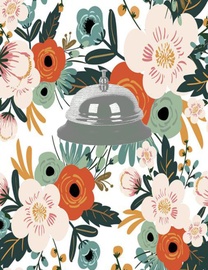 $$
Recommended
New
Editor's Pick
Private Room
In December of 2010 owners, Danny & Tiffany Ingram had just $100 to their names & high hopes for creating a delicious vibrant American restaurant in Mechanicsville. Day after day - & dollar after dollar the two were able to grow Bell Cafe into a 100% from scratch restaurant that has become a household name in the Hanover community. The two realize they would not be here without their customers & celebrate daily by offering top-notch service with artfully and tastefully crafted food!
Address:
817 W Main St
,
Charlottesville
,
VA
22903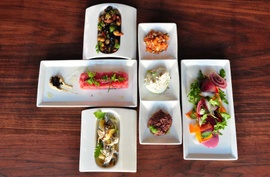 $$
Top 10
Recommended
New
Editor's Pick
Private Room
View
Why Parallel 38? Few other latitudes pass through so many states and nations. This temperate, middle latitude has proven conducive to not only human success, but to the ultimate cultivation food and drink. Napa County, Anderson Valley in the rolling hills of Mendocino County, Portugal's Setubal Peninsula, Melbourne, Alicante in Spain, Italy's Calabria, the Greek Ionian Islands, and the "Napa of the East" Charlottesville, VA – no other parallel produces more leaders in developing remarkable foods and drinks. Parallel 38 Restaurant creates an atmosphere where all the iconic regions within this parallel merge. It is not only a place to ...
Address:
275 Decatur Rd
,
Stafford
,
VA
22554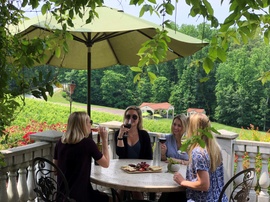 Potomac Point Winery's Bistro loves to include the freshest locally grown ingredients from each season. PPW's Bistro includes savory small plates and shareables, refreshing side salads, various types of cheese displays, delicious soups, Entrées of the day chosen by our gourmet chef, and mouthwatering Panini's. Potomac Point Winery has been voted "Best outdoor dining location" and one of the "Best places for Lunch" by Virginia Living Magazine. Our Bistro is open Wednesday through Sunday. Please see our exact bistro hours listed on the bottom of our website.