Hamilton Restaurants
Address:
1280 Main St. McMaster University
,
Hamilton
,
ON
L8S 4L8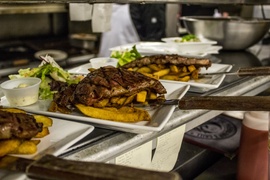 The Phoenix, a tradition at McMaster University since 1969. We're located in a beautiful Refectory building, overlooking Cootes Paradise. It's the perfect place to enjoy lunch on our woodland patio or relax with one of our 25 craft draught beers. Owned and Operated by the Graduate Students Association. All members of the community are welcome to enjoy the great food and large selection of beverages the Phoenix offers.
Address:
3020 Binbrook Rd
,
Binbrook
,
ON
L0R 1C0
Address:
61 Barton St. E
,
Hamilton
,
ON
L8L 2V7

$$$
Recommended
New
Editor's Pick
Vegan. Ethically sourced. Gluten-free. These are just a few of today's common dietary restrictions. But that doesn't mean it's easy to find food that meets those requirements. Except, of course, at Butcher and the Vegan. The Hamilton eatery is the brainchild of James Kayser. The chef and owner wanted to create a restaurant that brought people together. A place where they could enjoy a diverse selection of upscale farm-to-table fare alongside craft beer, inventive cocktails, and local wines. The menu - which changes according to season and availability - celebrates Mother Nature with vegetarian, vegan, seafood, and farm-raised meat dishes ...