Matt Seeber
Executive Chef
---
---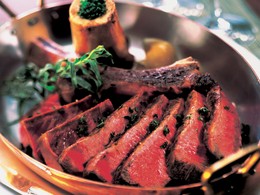 Executive Chef Matt Seeber seeks to be "everything to everybody." At Craftsteak, he deftly divides his focus between executing Tom Colicchio's ideology, addressing the preferences of his diners, and staying true to his own culinary philosophy, managing successfully to "balance what I want to do with what everyone else wants." While this burden might weigh heavily on someone else's shoulders, Chef Seeber manages to make it seem as effortless as the simple, pristine dishes he creates for his Craftsteak menu.
As with any skill that appears deceptively easy, Chef Seeber's culinary expertise is the product of his extensive, hard-earned, and much-lauded experience in the field. His cooking appetite was whetted in high school when he started working as a dishwasher and prep cook at a restaurant, motivating him to pursue an education at the Culinary Institute of America after graduation. From there, he moved to New York where, for the next several years, he worked at many of the country's most distinguished restaurants including Aureole, Oceana, and, most significantly, Gramercy Tavern where he first met Tom Colicchio and began cultivating their working relationship. After refining his talents and culinary vision as sous chef at Gramercy Tavern, Chef Seeber continued his distinguished career at still more notable New York restaurants including positions as Executive Sous Chef at Tabla, Executive Chef at BID, and Executive Chef at FiAMMA Osteria, where he gained entry to the MGM Grand when assisting with the opening of FiAMMA Trattoria in Las Vegas. A little over a year after leaving FiAMMA in New York, Chef Seeber took the position of Executive Chef at Craftsteak.
Chef Seeber has found an excellent mentor and partner in Tom Colicchio. The two share a reverence for farm-fresh ingredients and a seasonally-driven culinary philosophy that "if it grows together, it goes together." Chef Seeber reveals that they are so in tune that "sometimes I know what he's going to say before he says it." It is this synergy that has earned Chef Seeber the complete trust and respect of Chef Colicchio who, aside from quarterly visits to the restaurant, has granted Chef Seeber "complete autonomy" over the Craftsteak kitchen.
Although the expectations of Craftsteak diners have intensified since Colicchio's much publicized stint as a judge on Bravo's Top Chef, Chef Seeber does not disappoint. He is constantly changing his Craftsteak menu to address the demands of his diverse customer base and his own inspirations while always being careful to avoid "compromising the integrity of the restaurant." Above all, he seeks to create a menu that is "appealing to everybody." He is committed to making "simple food from quality ingredients. I don't have to take something apart and reconfigure it to call myself a chef." By "taking all the pretense out of it," Chef Seeber's food is incredibly approachable and appealing, while still embodying the skill and quality expected of haute cuisine.
In addition to his commitment to his customers and the Craftsteak vision, Chef Seeber sees his role as being "as much about training my staff" as it is about everything else. He knows that both his experience and the Colicchio name encourage certain expectations and that his "sous chefs are in it to learn, and if I can't teach them they will leave." His management approach and educational philosophy in the kitchen are very similar to Chef Colicchio's: "Tom manages by not managing. If you have an issue, you just fix it." Chef Seeber's has a similar hands-off style of teaching: "I'm not a control freak. I let them make mistakes so that they will learn from it. I don't want to have to hold their hands." By giving his staff the latitude to make their own decisions and, sometimes, their own mistakes, Chef Seeber ends up training a staff that is as confidently improvisational, quick-thinking, and skilled as he is, which, in turn promotes an atmosphere in the back of the house that is ripe for the kind of creative and approachable cuisine that has earned Craftsteak its acclaim and faithful following.
---