TableAgent Restaurant Reservation System
---
TableAgent is 100% free restaurant reservation system in the cloud. With TableAgent, you can make, manage and access your reservations anytime from any device, including phones and tablets. No monthly fees, no software to install.
---
With TableAgent, you can also collect upfront payments and booking deposits.
Sign Up

Faro Blanco Restaurant | Aruba
Thousands of Accounts - Millions of Reservations
---
Thousands of businesses around the globe are using our free reservation system, and millions of reservations were already successfully booked through our secure platform.
Our free reservation system is not only used by traditional restaurants and bars but also by wineries, breweries, farms, schools, retirement communities, churches, and special event organizers.
While the majority of our restaurants are from the USA, Canada, UK, Australia, and other English speaking countries; you will also find TableAgent in places like Aruba, Bali, Czech Republic, Estonia, Finland, Iceland, Germany, Italy, Malaysia, Mexico, Nepal, Norway, Panama, Singapore, Spain, and even Tanzania or Zambia.
18,000+ restaurants, 100+ Countries, thousands of customers and reservations booked through TableAgent every day at no cost to restaurants using our reservation system.
For best results, set the video settings quality to HD 1080p and click full screen [ ]
Dashboard Screenshots
---
You can choose from two dashboards. Reservation Book style dashboard and Table Status dashboard.
Free Restaurant Reservation System
TableAgent is a free restaurant reservation system app in the cloud offering restaurants an alternative to expensive reservation software currently available.
TableAgent is easy to use, time-saving, web-based restaurant reservation system platform. No software to install, no monthly or per customer fees to pay.
With TableAgent, you can accept online payments, manage, and access your reservation software anytime, from any device, including phones and tablets.
Tech Advantage
---
Take advantage of our secure platform that we built with the latest cutting-edge, industry-leading technology tools.
TableAgent is a "Progressive Web App" powered by the trusted Amazon.com AWS Cloud.
AWS is flexible, scalable, high performance computing cloud infrastructure that is providing a high level of security, dependability, and speed to organizations like Pfizer, Intuit, and the US Navy.
TableAgent has been developed with the same leading technology Google, Twitter, Instagram or Pinterest is using.
Smile, It's Free!
---
No Monthly Fees
No Setup Fees
No Per Reservation Fees
No Per Customer Fees
No Contracts
No Credit Card Required
No Software to Install
No Strings Attached
Easy to Use
It's Secure
Access from Anywhere
Works with Any Device
It's in the Cloud

---

And YES! It's Free!
Why is your service free?
It's very simple. Our fully functional reservation system is free. In addition, we offer some paid services. For example, businesses that need to collect payments and deposits with their bookings have the option to enable that functionality for a small monthly fee.
Our reservation software system is running efficiently in the cloud and is powered by a free, yet robust and secure open-source cloud computing software platform.
TableAgent is user-friendly and easy to use self-managed platform. That's how we keep the cost down.
What is the catch?
Every day, we receive this question. Sorry to disappoint you, but there is no catch.
Thousands restaurants, big and small, from all over the world are already taking advantage of our online reservation platform and every day, more and more restaurants are ditching expensive software in favor of our cloud reservation platform.
You have nothing to lose, so go ahead and Start Today.
Do you offer any paid services?
Yes. There is a small service fee for those restaurants that want to accept online payments for special events, pre-paid meals, gift cards, vouchers, take-out orders, pop-up restaurants, etc.
SMS texting is also an optional feature. For restaurants and organizations seeking privately used reservation system, we offer private, unlisted accounts for a small fee. For more info, please visit our Pricing Page.
TableAgent Features
TableAgent is a feature-rich reservation system that will give you complete control over all your tables at any given time.
Table & Floor Management
Reservation Book
Floor Activity Tools
Waitlist Management
Party Size & Large Groups
Settings by Restaurant Section
Seating Times Restrictions
Table Status Control
Table Groups
Special Features
Easy Website Integration
SMS Text Message Confirmations
Special Offers & Coupons
Concierge & Referral Tracking
Advanced Reports & Charts
Time Zones & Languages
Guest Management Tools
Frequently Asked Questions
---
Can we take upfront online payments?
Yes! With TableAgent, you can accept online bookings and require payment at the same time.
We offer same-day deposits and online payments are instantly deposited directly into your bank account.
With our flat fee monthly Unlimited Plan, you get unlimited payment transactions and no per-transaction charge.
Please see our Online Payments Page for more info.
Can we send SMS text message confirmations?
Yes! You can send regular booking confirmations and bulk text message reminders to all customers with just one click.
From your waitlist, you can also send a TABLE READY notification to customers waiting for a table.
You can also receive a new booking notification by text message on your mobile phone.
Sending text message confirmations to your guests is a great way to significantly decrease the number of no-shows, and to provide customers with booking reminders.
Texting is now available worldwide. The fee for this service is $20 per month.
Can we set a 15-minute timeslot booking limits?
Yes, you can set a guest count limit per each 15-minute Timeslot during your regular and special business hours.
Example (image below): when you set the 10:45 timeslot limit to , the reservation system will only allow 20 guests at 10:45.
Tip: You can also set the timeslot limit to zero for times that you want to block completely!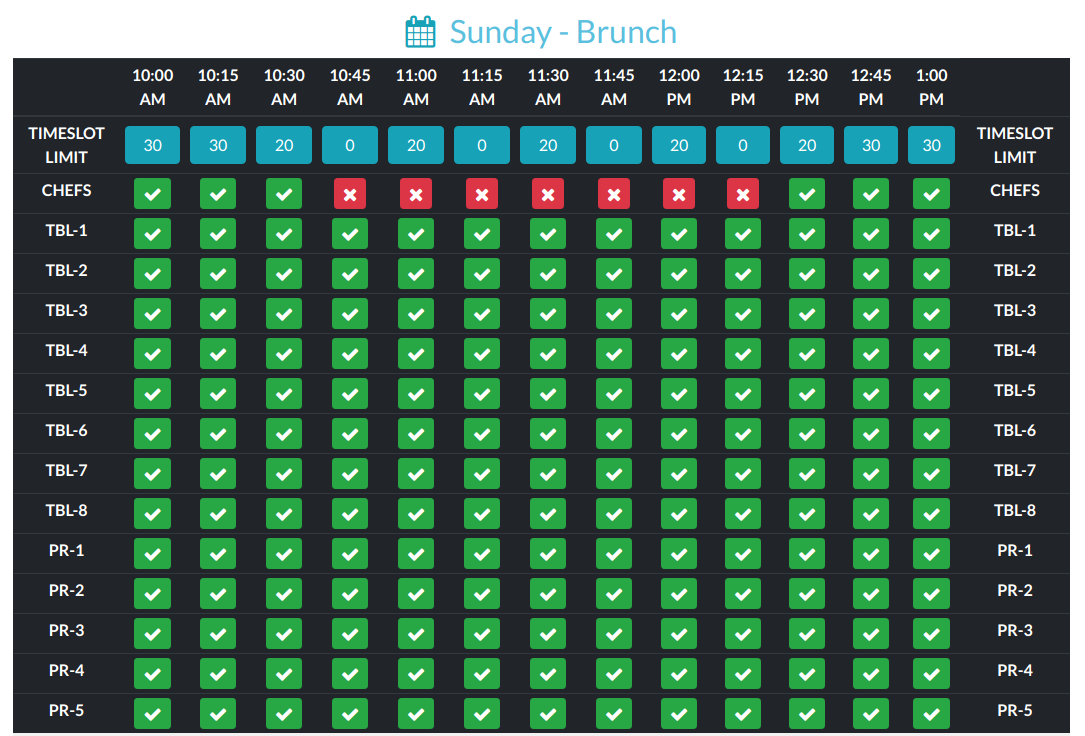 Click image to enlarge
Can we block individual tables?
With TableAgent, you can define the available booking times for each individual table by blocking the table during specific times.
For example (image above): To block your "Chef's Table" on Sunday between 10:45 and 12:15, simply click each timeslot in that time period and the table will be removed from the "table inventory" at those times, but the table will be still available for bookings before 10:45 and after 12:15.
What are Table Groups (Joined Tables)?
Do you ever use several smaller tables to seat one larger group? Table Groups do just that! Table Groups are used for larger parties that would not fit your regular tables.
For example, you can select two or three smaller tables and create one larger Table Group that will fit more people and our smart booking engine will reserve multiple tables for that guest.
Can we use TableAgent on our official restaurant website?
Yes! TableAgent makes it easy to accept reservations directly from your restaurant website.
Just copy and paste a short HTML snippet on your website and your customers will be able to check real-time table availability and make instant online reservations. (The HTML code is located in your Dashboard under MENU > HELP > Website Integration)
As always, it's free, and you never any "per-person" fees.
Can we block tables or restaurant sections on busy days?
Yes! You have control over all your tables and restaurant sections at any given time.
It is common that restaurants are blocking tables on busy days just because they don't want to pay high "per-customer" fees charged by other services.
With TableAgent, you don't have to worry about paying any "per-customer" fees and therefore, you will no longer have to block tables on busy days just because you want to save money.
Can we use TableAgent just for one Special Event?
Yes! We have many pop-up restaurants, event venues, and private organizations using our system for special events only.
Can we use TableAgent as our in-house only system?
Yes! We offer OFFLINE and PRIVATE accounts. OFFLINE accounts are ideal for restaurants that don't want online bookings and all bookings must be made over the phone. PRIVATE (unlisted) accounts are suited for restaurants and organizations seeking privately used system without a TableAgent profile.
What about Privacy and GDPR?
Unlike the big corporations tracking your every move, we are all about privacy. Our platform is GDPR compliant, and customers can easily cancel and completely anonymize their user accounts. We do not share, sell, rent, or lease any data. We do not allow 3rd party integrations or social media logins. Our reservation system was made by hospitality professionals for hospitality professionals.
How do I Sign Up?
1. Create your TableAgent Account
3. Setup your Account Settings
Sign Up
Contact
If you have any questions or need help with our reservation system, please contact us at:
Email: helptableagent.com