Claude Le-Tohic
Executive Chef
---
---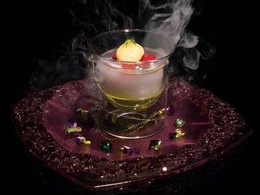 The natural partnership between Chef Claude Le Tohic and Chef Joel Robuchon has a long history of cultivation. The dynamic epicurean duo first began in 1987 when, after developing a considerable reputation as a restaurant consultant in France, Chef Le Tohic started working at Jamin, Chef Robuchon's first Michelin star award winning restaurant in Paris. Years later in 2004, Chef Le Tohic joined forces with Chef Robuchon again when the celebrated chef opened L'Atelier and Joel Robuchon in the MGM Grand and helped earn the eponymous restaurant the distinction of being the first and only three star Michelin restaurant in Las Vegas.
While Chef Le Tohic presides over both the Joel Robuchon and L'Atelier kitchens, in truth he gladly admits that he is more of a partner or assistant to the maestro, Joel Robuchon himself. Unlike other executive chefs, who typically need only rely on their individual visions and inspirations, Chef Le Tohic's position is "a little different. I work under the name 'Joel Robuchon'…I create with him." He works closely with the celebrated "Chef of the Century," who serves as the main source of inspiration for all the dishes on the Joel Robuchon and L'Atelier menus. Although Chef Le Tohic and his much lauded culinary team are considered epicurean stars in their own rights, he admits with awe that everyone in the kitchen is "always impressed when Monsieur Robuchon walks in." Chef Robuchon makes regular visits to both restaurants to help maintain his sublime culinary standards and the cohesion of his particular vision, ensuring that an experience at Joel Robuchon and L'Atelier is the experience intended by the legendary creator himself.
In Chef Le Tohic, Chef Robuchon has found a skillful and distinguished culinary partner. In 2004 Chef Le Tohic received the prestigious, peer-juried Meilleur Ouvrier de France award and, in 2009, was a James Beard Award Semifinalist for Best Chef: Southwest. It is Chef Le Tohic's unique aptitude for conveying Robuchon's own vision while at the same time executing his own point-of-view that has set him apart from his peers and earned him his much deserved recognition.
The Le Tohic-Robuchon team works so well because both chefs share similar culinary philosophies. Despite the opulence of the cuisines at both restaurants, both Chef Le Tohic and Chef Robuchon prioritize simplicity of flavors above all else. All dishes for L'Atelier and Joel Robuchon are created using a maximum of three different flavors, with most concentrating on one or two profiles rather than overwhelming the palate with a complicated bombardment of tastes. This reflects Chef Le Tohic's own personal preference: "When I eat something, I don't like to eat too many flavors." While this perspective may seem antithetical to the six, eight and sixteen course extravagances that characterize the Joel Robuchon experience, in reality it is the source of its success. If each dish in the dinner was full of a multitude of different flavors there would be "too much flavor," and would become over-complicated and unappetizing. By keeping each dish's flavors simple and focused, each course layers new nuances to create an immensely well-balanced, full-bodied, and distinctly memorable taste adventure.
Instead of focusing on complicated flavor combinations, both chefs instead rely on quality of seasonal, fresh ingredients to lend power and sophistication to their dishes. The menus for both restaurants change regularly with the seasons to ensure that their product is as flavorful as possible. In Chef Le Tohic's words, "if something is good and uses good ingredients, it doesn't need to be complicated."
The complication of the cuisines at Joel Robuchon and L'Atelier is lent by the meticulous consideration that both chefs give to each dish rather than a literal flavor complexity. In a typical sixteen course dinner at Joel Robuchon, for example, every single dish "is different: in flavor, texture, appearance." Each element on the plate is attended to with the utmost care and balanced against one another to create memorable culinary constructions. The sophistication of the cuisines, therefore, lies not in the final product but in the process, with both chefs relying on their expert and artful restraint and their creative minimalism to achieve a result that distills ingredients down to their essence.
Chef Le Tohic's culinary skill proves to be as diverse as it is precise. As executive chef for both L'Atelier and Joel Robuchon, he deftly oversees two very different dining experiences. The more relaxed, yet faultlessly chic L'Atelier is a constant flutter of activity, as kitchen staff "perform" for diners from an open kitchen while preparing playful Asian, Spanish, and French-inspired dishes. Joel Robuchon, on the other hand, awes diners with visual and flavorful excesses, with servers presenting cloched culinary masterpieces in elegant silence. The fact that Chef Le Tohic can move fluidly between these two very different worlds is a testament to his expertise in the restaurant industry, and proof that Chef Joel Robuchon chose the right person to be his epicurean avatar at the MGM Grand.
---