Nora Ramos
Executive Chef
---
---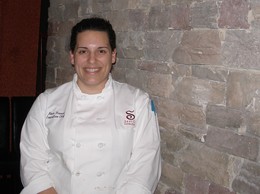 Nora Ramos grew up in the primarily Latino neighborhood of South Los Angeles called Huntington Park. As a child, she watched Julia Child and Martha Stewart and first remembers cooking at seven years old - over easy eggs with tortillas on a Sunday for her father. Since her parents were busy working, it fell on Nora to make dinner after arriving home from school.
Nora grew up with Mexican food, but soon fell in love with Italian food, dishes like pan-seared chicken with bell peppers and tomato sauce. She said, "I taught myself how to cook Italian food, meat sauces, pastas and lasagna. When I first started out, it was something my household wasn't used to. It was fancy." Before long, her sister grew to appreciate Nora's cooking. Chef Ramos said, "My sister hinted that I should be a chef, since she thought I cooked really well."
Right after high school, Nora enrolled in the one-year culinary program at Le Cordon Bleu in Pasadena. She said, "I had options in New York and Rhode Island, Johnson & Wales or CIA. I come from a very low income family, and being Hispanic, you're tied to your family a little bit more, so I didn't want to leave Los Angeles." The school had two courses - baking and hot foods - and Nora chose the latter.
Nora said, "I was used to eating everything well done and dry. In culinary school, I learned how to make vegetables properly. They taught you everything from how to make scrambled eggs to making sauces. It was an extensive program."
Ramos' first restaurant job was at Wolfgang Puck's catering division, at Hollywood & Highland. She'd go after school to work high-volume catering, parties of 300 people and up, including the Nissan Open and the Governor's Ball for the Academy Awards. She worked for Puck for six months. "It was cut this. Plate this. Sauce this. It helped with my speed."
After graduating from culinary school in 2002, Ramos said, "It was difficult to get my foot in the door because I was a woman. If it was a seasonal position, I got hired easier." After getting laid off by Wolfgang Puck, she got a job at Taste Buds at Ramsey's, an American grill in a Universal City country club. She also worked in the Universal Studios production kitchen and aboard the Queen Mary.
Her first full time restaurant job was at Bice Ristorante, which formerly existed in Pasadena's Paseo Colorado complex. Beginning in the fall of 2002, she worked alongside Chef Julian Alexander Baker "a strict, awesome chef, passionate about fine dining and authentic Spanish cuisine. He taught me how to work clean and consistent, to take pride of ownership in the food." He showed Ramos how to make fresh pasta, dressings, sauces, and how to fabricate (cut and trim) meats. After two and a half years, under Chef Baker's guidance, she worked her way up from pastry cook to Sous Chef. To this day, Ramos still considers Baker her mentor. "Whenever I have problem and can't solve them, I call him. He's my Gordon Ramsey."
After leaving Bice in February 2004, Ramos traveled west to Norman Van Aken's Caribbean restaurant on the Sunset Strip, Norman's. She applied for the Sous Chef position, but because it was going to be a high-profile restaurant, she accepted a position as a grill cook. Of the experience, she said, "It was a good restaurant but a bad location." Not long after she started, the restaurant eliminated lunch service and she was back to job hunting.
After Bice, Ramos took a line cook position at the Universal City small plates restaurant Minibar, but didn't stay long because in April 2004, she scored a Sous Chef job at Bar Celona, a new Spanish restaurant in Old Town Pasadena. Ramos said, "I had experience with Italian cuisine and wanted to try something different. I helped the Executive Chef do tastings and research on cuisine." Research included an eye-opening two-week trip to Spain. Ramos said, "Spain was artistic and metropolitan. Eating is the event of the evening. It's sitting down and having a bottle of wine, with no music, just people laughing and enjoying themselves." Seven months after Bar Celona opened, the Executive Chef left and Ramos got the position. Her stay at the restaurant lasted until April 2007.
Ramos said, "I decided to step down and take a Sous Chef position so I could learn something else." In April 2007, she was hired for the job at Ford's Filling Station, under chef-owner Benjamin Ford. Ramos said, "I was there for only four months. We had the same mentality about Spanish cuisine, but he was more interested in making it American."
She applied for a blind lead online, which turned out to be for the Executive Chef position at Café Sevilla. By this point, Ramos had fallen in love with Spanish food, so she quickly accepted the job. She started at Café Sevilla Long Beach in October 2007.
With time, she plans to integrate daily specials, but for now, she's focusing on getting the most out of the existing menu, which was written at corporate headquarters. She said, "I want customers to experience Spanish cuisine to its fullest."
---