Pasquale Vericella
Executive Chef
---
---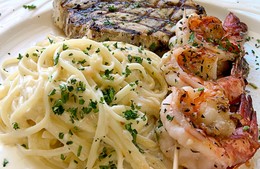 There are a fortunate few who discover their passion early in life. Pasquale Vericella, Il Cielo's owner and executive chef, is one such person. While originally from the Amish country of Pennsylvania, Vericella has culinary roots that run as deep as his Italian heritage.
Vericella's parents, natives of Positano, Italy (a small town south of Naples along the Amalfi Coast), imbued their family with the traditions and lifestyle of their home country. Wholesome food and regional Italian cooking were part of Vericella's childhood experience. Growing up, he gained a deep respect and affinity for food, first by watching then participating in cooking alongside his grandmother, mother, and aunts. As well, summers spent at his Italian relatives' hillside "La Braida" hotel in Santa Arsenio (near Salerno, a town south of Naples) added to Vericella's total immersion in hospitality.
As a boy, Vericella also kept a garden and through this experience, he cultivated a deep respect for food, not just as source of nourishment, but as a way of life. Vericella learned that cooking "was not just being in the kitchen," but a total involvement "from garden to kitchen to table."
These childhood experiences combined to form Vericella's love of food and cooking and served as the foundation for his philosophy of food preparation. It was a natural choice for Vericella to build his life around food and create the festivity and celebration that was his birthright. In fact, Vericella says that he's "always loved the whole idea of a charming venue with quality food where life is a celebration."
This vision became a reality for Vericella after he moved to Los Angeles in the early '80s. It took several years, however, until he located the ideal site for his restaurant. In discovering the French bistro En Brochette in Beverly Hills, Vericella knew that he'd found the restaurant of his dreams, but it took a few more years until 1986 when the venue became his own, and Il Cielo was born.
Construction began and Vericella transformed the bistro into a restaurant reminiscent of his childhood and family's Italian hillside hotel. Vericella personally restored the original residential construction and added two enclosed patios for al fresco dining. The result was an invitingly elegant Italian country home that made a perfect setting for Vericella's classic Northern Italian cuisine from his original Italian recipes.
Vericella was taught to prepare food simply so as to release natural flavor and not overwhelm his dishes with seasoning. This concept of food preparation and cooking stems from an adage that he heard throughout his childhood: "Don't agitate the food." A guiding principle passed down to him by his Italian nonna (grandmother) who taught Vericella that a recipe's fresh ingredients are the stars and should be handled minimally.
It's been almost 21 years since Il Cielo first opened its doors and the kitchen continues to resonate with the founding philosophy of freshness and classic simplicity. By keeping true to his vision, Vericella has created a hospitality destination with a culinary journey that doesn't require a suitcase, but an appetite. Buono gusto!
---