Sal Marino
Executive Chef
---
---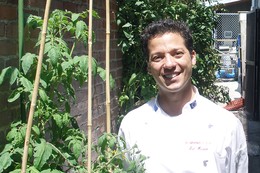 Sal Marino was born in Los Angeles and raised in Naples, Italy, returning to Southern California at age sixteen. After a front-of-the-house stint at his family's long-running Hollywood restaurant, Marino, Sal enrolled in USC's entrepreneurial program, convinced his future belonged in finance.
While enrolled at USC, Sal never stopped working at Marino. Since he only had time to work a few days a week, his father limited him to the front of the house. Sal said, "My father wouldn't let us in the kitchen. He said you do it all the time, or you don't do it." After graduating from USC, Sal received offers to work in merchant banking, which didn't appeal to him. "I didn't want to give my youth to them." Instead, he returned to Marino. "Since I wasn't in school anymore, my father said I could work in the kitchen."
It was in the Marino kitchen that Sal first embraced his passion for cooking. To this day, Sal still cites his parents as his two biggest influences. His mother taught him to cook. "My mom would literally open the fridge and apply creativity of combining things." From his father, he learned the value of customer service. "My father's first lesson is my mantra: 'Kids. We do not feed them. They feed us.'" Sal quickly realized that lesson also applied to adults: "Some chefs treat diners like they're doing them a favor. It's my pleasure that you choose me, so I have a good living."
Bypassing culinary school, Sal returned to Naples for more advanced culinary training. "I went back to Italy for formal training, from trattorias and pizzerias to 3-star Michelins."
After returning to Southern California, Sal and his brother Mario opened La Bottega Marino in 1993, a casual Italian restaurant and deli in West Hollywood. In 1997, a big year for the Marino Brothers, Sal and Mario opened a second branch of La Bottega Marino in West Los Angeles, and Sal opened Il Grano next door.
Sal decided on the name while speaking with a professor of agronomy in Italy, marveling at grain's versatility. "Grano. That's how you make pasta, pizza, bread. It's Italian." As for the concept, Sal decided on a contemporary, market-driven Italian restaurant. "A lot of what Americans think of Italian comfort food is the Italian-American version. I cook the way Italy cooks, which is not fusion. It's real."
Chef Marino takes his seasonal approach seriously. "This is a product-driven restaurant. The market is the muse. That's what drives the restaurant, and what should drive chefs." Given that, he changes Il Grano's menu every month, offering "whatever swims in the ocean and grows on Mother Earth." He makes almost daily appearances at farmers' markets around the city, scouring for fresh produce and seafood. He also sticks to a strict policy: "NEVER anything frozen. It's fresh or none."
Chef Marino is especially passionate about tomatoes, which appear in mid-July. Sal currently grows over 40 varieties of tomatoes in his garden, and even features Tomato Wednesdays in summer, featuring tomatoes as a key ingredient in each dish.
The Marino brothers lost the lease on the original La Bottega Marino in West Hollywood in 2000, but rebounded by opening a replacement location on Larchmont, in 2003. In the future, Sal hopes to open more Bottegas with Mario. In the meantime, Sal continues to revel in his daily trips to the market, and in creating menus to showcase those ingredients.
---