Vania Almeida
Executive Chef
---
---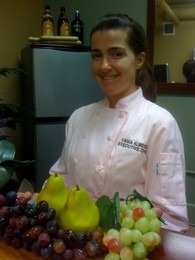 Growing up in São Paolo, Brazil, Vania Almeida received a daily education about restaurants. Her father was one of the city's most influential restaurateurs. Almeida remembers, "He'd open a restaurant from the ground up, make it famous and sell it. He sold over 30 restaurants." By the time she was sixteen, Almeida was working at one of her father's Italian restaurants, in the front of the house. When she wasn't looking after customers, her father would take Almeida to São Paolo's top restaurants, to teach her how to eat.
Almeida came to Los Angeles as an exchange student to finish college, studying marketing and advertising at El Camino College in Torrance. When she wasn't in class, Almeida worked as a waitress at the Olive Garden, Cheesecake Factory, and Trump National Golf Club in Palos Verdes, which proved to be her most influential post. Trump National had two restaurants, the casual Café Pacific and Peninsula Grill for fine dining, with all the food coming from the same kitchen. She credits Trump National with exposing her to "beautiful presentations" and "delicate flavors."
"I'm an artistic person," Almeida says, so upon graduation, she decided to match her "artistic side and culinary side." She enrolled in culinary courses on Melrose Avenue in L.A., at the Epicurean School of Culinary Arts.
After completing the course work in her spare time, Almeida asked Kevin Aidukas, the Trump National executive chef, what it would take to become a chef. He responded, "Hard work, passion, and knowing what you want." Inspired, she asked Aidukas to give her a chance in the kitchen. She was offered a job as the pastry assistant to Ron Stewart. Even though she had to take a 50% pay cut from waitressing, she accepted the position. Looking back, she says, "I loved it ever since I walked in the kitchen." 1998 signaled the end of Almeida's waitressing career. At Trump National, she worked her way up from pastry to garde manger to line to grill to lead line.
When chef Don Dickman left Trump National to open an Italian restaurant in Santa Monica called Rocca, he invited Almeida to join him. Beginning in 2002, she simultaneously worked at Rocca by day and Trump National by night. She said of her experience with Dickman, "I helped to create salads, write recipes and do tests with the new items on the menu. It was a lot of fun." When Dickman's business partner passed away, he was forced to close Rocca. Thankfully for Almeida, she was once again able to capitalize on her network of Trump National contacts.
In 2005, Mike Lesinski, a banquet chef from Trump, was hired as Executive Chef at Arroyo Trabuco Golf Club in Mission Viejo, and he invited Almeida to become his Sous Chef. She said, "It wasn't as fine dining as Trump, but it let me learn the management side and administrative work, along with discipline." Of the opportunities afforded to her by Chefs Aidukas, Dickman and Lesinksi, Almeida said, "They saw that I wanted to learn, so they took me under their wings."
In 2007, Almeida was invited to the Belamar to work as executive chef at Vibe, the hotel's restaurant before Larkspur Hotels bought the boutique hotel and did a $5 million renovation. The new management company decided to retain Almeida as executive chef for Second Story, a seasonal American restaurant that opened on March 13, 2008.
When writing Second Story's menu, Almeida's approach was to "make the menu very fresh and colorful." She revamps the menu four times a year, depending on what's in season. She also stresses presentation, saying, "I want consistency, want all the plates to look the same. You can see the harmony, the love I have for culinary, the love we have in the kitchen."
When asked to cite mentors, Almeida credits her father, who passed away in 2002, for instilling her with a love of food. Thanks to her mother, she makes sure to "treat [her crew of 14 kitchen staffers] with respect, teach, and give them the opportunity to grow." She also names her boyfriend, who she says "challenges me to grow all the time, nonstop, to change recipes, and to test and eat every day." Given her start as a pastry assistant, Almeida even extends her oversight to the all-American desserts, which are mostly made in-house.
At Second Story, Almeida finally has the freedom to channel her passion on the plate, and with her mother and boyfriend encouraging her, there's no telling how far her passion will take her.
---