Jose Garces
Executive Chef
---
---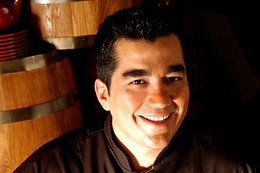 At only 34, Amada chef Jose Garces can rightfully call himself the king of Latin cuisine. After graduating from culinary school, he apprenticed at La Taberna del Alabardero in Marbella, Spain. Following this, he moved to New York where he worked in the some of the city's best restaurants, including The Four Seasons, The Rainbow Room, and Bolivar. He also served under influential chef Douglas Rodriguez (considered the godfather of Nuevo Latino cuisine) at Chicama and Pipa. Rodriguez then handpicked Garces to be his chef de cuisine at restaurateur Stephen Starr's Alma de Cuba in Philadelphia. Garces was quickly promoted to executive chef both at Alma de Cuba and El Vez, where he created a modern Mexican menu. A culinary visionary who never ceases to reinterpret Latin cuisine, Jose Garces is an award-winning chef with ambitious future projects including a new Mexican restaurant in Philadelphia that's set to open in the summer of 2008.

Why did you decide to become a chef?

As a kid, I used to love spending time in my grandmother's kitchen, helping her cook. I learned the fundamentals of cooking from her and developed passion for good food from those experiences. My restaurant Amada, which means "loved one," is named after my grandmother.

I've been cooking most of my life, but decided to become a chef after my second year in college. I was studying business and was not enjoying it at all. I spent a little time soul searching and quickly realized that the one thing I was truly passionate about was cooking. So I enrolled in culinary school.

Who/What were some of your inspirations?

Like I said, my grandmother is probably my biggest inspiration. She and my mother both instilled in me the passion and values that I draw from today. Professionally, I'd have to credit Douglas Rodriguez. After culinary school and some stages in Spain, Rodriguez hired me to work at his restaurant Pipa in New York. As a mentor, Rodriguez taught me not only how to re-envision Latin cookery, but also how to run a large, busy restaurant.

Did you predict Amada's success?

Not necessarily. From the beginning we identified tapas as a void in the city's dining landscape. So, we knew we were going to be the only tapas restaurant. And I believe the city was ready for it.

What's your favorite thing to cook?

I absolutely love cooking a big Thanksgiving dinner. In fact, I do Thanksgiving twice each year. I cook one for my staff that we usually share a few days before the holiday. And then on Thanksgiving, I do it all again for my family.

What are some of your future projects?

We are working on opening Chilango later this year. It's going to be a big, festive Mexican restaurant at the Hub in University City. Chilango will have a taqueria—a laid back vibe with a take out window—a downstairs. Upstairs we will offer more elaborate interpretations of Mexican cuisine in the dining room. And some day I would love to explore this idea I have for a Latin-Thai restaurant.
---