Vincent Guerithault
Chef
---
---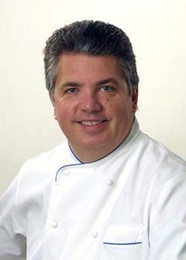 Vincent Guerithault first came to the US in 1976, to become the sous-chef at Chicago's Le Francais. However, his culinary education began long before that in his native France where Guerithault began learning his art as a very young boy training at such renowned restaurants as L'Oustau de Baumaniere in Les Baux de Provence, as well as Maxim's and Fauchon in Paris.
After leaving Chicago, Vincent headed up his very first restaurant, Pinnacle Peak Arizona. And it was here in the 1980's that he first garnered national attention. The renowned New York Times Food editor, Craig Claiborne, dined at the first location and wrote, "If one may judge a restaurant on the basis of one visit… I would declare Vincent's to be exceptional." The rest, as they say, is history.
In 1986, Vincent opened "Vincent's on Camelback" in Phoenix, Arizona, and the restaurant remains in the same location today. This new endeavor gave him the opportunity to experiment with southwest ingredients like masa, chili peppers, cilantro, and corn. His own French expertise allowed him to marry Southwest and California cuisine with Mexican flavors, and still remain true to his French roots. Vincent is credited with the creation of the Southwest/French fusion cuisine; he was the first to utilize the bold flavors of the Southwest while creating dishes with classic French flair. Vincent claims he has recently been bringing more of a Provencal twist to his evolving menu, which has allowed him to delve heavily into his traditional French roots.
Vincent insists on using only the best and most flavorful ingredients. The vendors at his outdoor Saturday Market represent his dedication to fresh ingredients. Small, approved vendors set up tables with the freshest fruits and vegetable, and only the best homemade jams and preserves. In addition to being an award-winning Executive Chef and owner of his landmark Phoenix establishment, Vincent is a perceptive businessperson, as well. While his Saturday Market, which is held in the Restaurant's parking lot, is a long-standing local tradition, Vincent has also managed to mastermind other culinary endeavors. To the rear of the main restaurant is the Market Bistro. It serves a casual breakfast, lunch, and dinner. There is also "Vincent's Catering," and the "Vincent's Van Go" -- these brightly decorated Vans deliver breakfast, lunch, and snacks to local offices. His most recent venture is a take-out wood fired pizza kiosk that maintains limited hours behind the main restaurant, called "Vincent's Back Door."
However, ask anyone about Vincent and they will tell you that he cares most about the desserts. When Vincent comes to diners' tables, his first question is, "how was the dessert?" This is not only illustrated by the chef's gift of a warm chocolate tart served after the meal is completed, but by the fact that a homemade dessert often arrives unannounced at the table after an informal meal at the "Market Bistro". Vincent appears often, walking casually through his restaurant and his bistro, making sure patrons are happily satisfied.
In 2008 and again in 2009, Vincent received the prestigious honor of semi-finalist/nominee for "Outstanding Chef" by the James Beard foundation. In addition to his most recent honors, Vincent was the first chef to receive a Citation of Excellence from the International Food & Wine Society. His plethora of commendations include the James Beard award as "America's Best Chef: Southwest" and the prestigious Chevalier de L'Ordre du Merite Agricole on behalf of the Republic of France. Furthermore, Mobil Travel Guide has consistently awarded his restaurant four stars. Vincent's on Camelback has received prestigious reviews in Gourmet magazine, the New York Times, Conde Nast Traveler and Travel & Leisure. Zagat has ranked his restaurant "most popular" and "best in area" for well over a decade. In 2003, Vincent's on Camelback placed 24th on the World's Top 50 Restaurants by British based Restaurant Magazine.
In reference to his many honors and international acclaim, Vincent has declared he is honored to be listed among the worlds' top 50 restaurants. In his humble favor, He neglects to add that Vincent's on Camelback was just one of seven U.S. restaurants achieving this distinction. "Our restaurant is a matter of great pride, and we are delighted to be recognized by international authorities for our hard work."
---