Ken Irvine
Executive Chef
---
---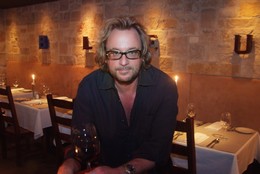 Paradise is what you make of it and Executive Chef and Owner Ken Irvine's blueprint for bliss with his restaurant, Bleu Bohème, is a pretty darn solid one if you ask me. Chef Irvine has managed to create a successful career with his life-long passion of creating and experiencing world-class cuisine, designing his restaurant around good times and even better fare, while always striving to do more.
Chef Irvine is truly at home in his classic Parisian bistro and invites everyone to feel the same. Winding his way from table to table to greet guests and catch up with old friends throughout the evening, Irvine reminds us all that to be a great chef one has to also be a natural host. My dining partner and I learn this first-hand when Chef Irvine guides us through our entire meal on the night of our visit. He is gracious enough to sit with us and introduce us to the history, vision, and more intimate side of Bleu Bohème.
"How are you?" I ask once we've sat down at a table in the café and bar area. Chef Irvine's smile never wavers, but only drifts from gleeful to meditative to mischievous according to the topic. "It's a crazy day in paradise, but paradise nonetheless." He proclaims, seemingly unaware of his own profundity. The Chef asks if we've ever visited Bleu Bohème before. Once he hears that this is, in fact, our first time, Irvine happily describes his career and focus.
"We're a neighborhood restaurant primarily. I've owned restaurants since I was 29 years old… I've owned this one [Bleu Bohème] about two years." Chef Irvine speaks as though he's retelling a familiar story to old friends; his voice is relaxed and hits his marks with more volume and vigor. He adds, "My food I've always cooked for myself and have been fortunate enough to have other people like it… A lot of people cook for what they think other people will want, and that's when you get into a lot of trouble. That's when you see really large menus. You can't be successful that way because it's difficult to prepare a menu that big."
Chef Irvine picks up one of the menus sitting on the table and begins to read it to us like a book. Every menu item is punctuated by a piece of his personal history. The Chef explains that his cooking has a lot of Portuguese influence since he owned a house in the South of Spain for 10 years.
"My training is in the South of France. I graduated from the Culinary School of America. So while a lot of my dishes are prepared classically, many are variations." Chef Irvine's inclination to tinker with tradition is based on equal parts creativity and logic. He continues, "I prepare my escargot without the shells—many places reuse the shells but they're difficult to clean." For last year's "Taste of Adams Ave," Irvine barbecued 1,800 servings of skewered escargot. "That was really cool to see people go out on a limb a little bit and try something new."
As all the best conversations do, ours jumps effortlessly between shop-talk and fond memories, and ultimately comes to linger over food. Irvine seems to take the most pleasure in how his food pleases others. He tells us about the first time one of his dear friends tasted chocolate. Evidently, the friend had been mistakenly diagnosed as being allergic to chocolate as a child, and was only convinced by her friends to try it much later in life. The story ends with the image of a reborn-chocoholic making up for lost time and Chef Irvine's eyes gleaming with pride.
Looking back down at the menu, Chef Irvine offers some fun facts about the food and drink we'll try tonight. He chuckles as he describes his version of Mac n Cheese—it features duck confit, which I can only guess holds a special place in Chef Irvine's heart. Boeuf Bourguignon is his idea of French soul food as it is rustic, comforting, and hearty. Evidently, his boeuf bourguignon recipe changes every year, and this year's is his favorite. Irvine explains, "I'm using this small group of ranches in the Midwest. Each raises the same group of cattle—grass-fed, corn finished beef—and the beef short rib cut is exclusive to Bleu Bohème. We're the only restaurant in Southern California to have it." Magic is kept on tap, literally, in the form of Bleu Bohème's house wines, which come from a secret source in Sonoma… I guess you can't have magic without a few secrets up your chef sleeves.
Chef Irvine checks in on us often throughout the evening; at the end, he bids us goodnight and invites us to come back soon. We thank our host for his time and wonderful company, not-so secretly wishing we could spend a little more time in paradise.
---