Marc Brislin
Executive Chef
---
---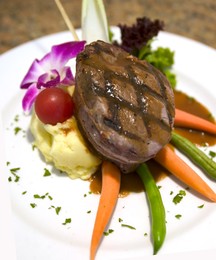 Sometimes things fall into place in our lives, and it would seem like Chef Marc Brislin's life has come together by art or magic blessing him with a charming personality, a God-given knack for cooking, a talent for management, and a happy marriage with children. Magic has worked its charm somewhat; but hard work, dedication, and commitment are really the ingredients that propelled Marc Brislin to the top as Executive Chef of the Best Western Island Palms Hotel and Marina by the tender age of 26.
In his soft spoken style, while talking through a smile, Chef Marc Brislin takes us through his 13 year journey thus far in the culinary world.
"When my father bought me my first car at 16, I needed money for gas. A friend told me about a dishwashing position at a restaurant where I was hired right away." Because of Marc's willingness to perform, his progress was rather swift. After only six months he made it to prep cook; in one year he was a pantry chef, and not long after that he was cooking on the line as if he were born to do just that.
Soon, Marc's formal education plans took a detour from medical to culinary school. "My parents were very understanding. They said, 'It's your life.' So, for a year, I'd go from school to work. For a long time the only pants I wore were black and white checker pants."
By 1999, Marc graduated and came aboard the Rancho Bernardo Country Club, but left there two years later to take his first sous chef job at Taste of Florence restaurant. He was only 21. "It was a lot of work for a 21 year old," Marc says with a look of incredulity.
His journey took him next to a sous chef post at Humphrey's By the Bay, where he worked for four years under the mentorship of Chef Paul Murphy. It was there that he met and fell in love with his wife Alyssa, but a romance between members of management and employees was against company policy. Marc took the opportunity to spread his wings further at the same time that he cleared the way to get married.
After Marc had been at The Palm Restaurant for six months, the executive chef at Island Palms was leaving. The GM at Humphrey's thought of Marc and called the Food and Beverage director at Island Palms to tell him that he was going to send him a really smart and hardworking kid for an interview. "Next thing I know, I'd made it to executive chef when I was 26 years old."
That's a lot of work for a 26-year–old, I may say, but Marc rose to the occasion once more. For three years now, he's been juggling recipes, menus, cost sheets, staff schedules, banquets, weddings, room service, and still has found the time to promote his name and restaurant by participating in the Liver Foundation Gala as a sous chef for the past seven years. At $300 a plate, this is a great venue to display his talents and in the next show he will be the executive chef.
Marc feeds off the enthusiasm of food fans. He loves partaking in shows like The San Diego Bay Food and Wine Festival, which is host to 5,000 foodies. He gets a high from satisfying the appetites of enthusiasts who are increasingly knowledgeable about food thanks to the growing popularity of food shows on TV. To him, this is great feedback and a source of inspiration that keeps him going even through the long hours he must dedicate to his duties. Marc's responsibilities are daunting, but he takes it all in stride and knows how to delegate. He's grateful to count on amazingly seasoned cooks, and he also has Sous Chef Scott Laursen's 13 years of invaluable experience.
A man that can cook about anything, Chef Brislin loves the taste of a home-cooked meal, which is a luxury he couldn't enjoy until he became executive chef with more control of his working schedule. Now, Marc enjoys cooking at home with his wife. "She makes great Chicken Parmigiana. Figured it out on her own, I didn't have to show her."
This amazing chef keeps his eye on the latest trends. A little experimentation led to a powder made from sesame oil, which allowed him to get a feel for what it would be like to include a little molecular gastronomy technique in his recipes. He uses this powder for the spinach he serves with sea bass.
Marc Brislin's culinary trajectory has been quite a ride, a journey that makes him love the industry in general. He talks about it with candid ease and a sparkle in his eyes… and his enthusiasm is enough to awaken appetites.
---