Ashley Popat
Executive Chef
---
---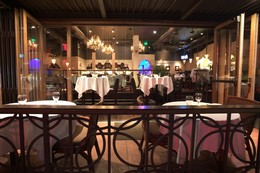 If you had asked Ashley Popat, 15 years ago where she envisioned herself today, she never would have imagined she would be running three successful restaurants. Born in Uganda, and raised in London, her foray into the restaurant business started in the early 1990's, when she came to San Diego after graduating college to join her brother and future restaurant partner, Rakesh Popat. Rakesh, who often goes by Rick, had, like Ashley, come to San Diego after graduating college a year earlier. Shortly after Ashley joined Rick, the brother and sister team bought a small storefront in Hillcrest and opened their first business, a frozen yogurt and juice bar they called Cool Corner.
It was at Cool Corner they began to see an interest in Indian food. "We didn't have a kitchen, but we would set up a little rice maker in the store and sell samosas," Ashley explains. Two years later, they opened a restaurant called Monsoon, a fully vegetarian restaurant that served world cuisine. "I learned everything [about running a restaurant] there," Ashley claims, "It was just me and my brother, sometimes just me in the kitchen for 15 hours a day." While hard work—Ashley was often at the restaurant from 6:00 a.m. to 11:00 p.m.—the restaurant world appealed to the duo, and three years later they decided to try their hand at a more formal Indian restaurant. Closing Monsoon to renovate the space and the concept, they opened Bombay: Fine Cuisine of India in its place, an elegant Indian restaurant that continues to be successful today.
Ashley designed the menu at Bombay based on recipes she learned growing up, from years spent helping her mother in the kitchen. The past several years of Ashley's career has seen consistent expansion, not only in cuisine but in location. In 2004, after seven years of success with Bombay, Ashley and Rick opened Monsoon downtown, a more upscale Indian restaurant on Fourth Avenue. In April of 2006, they opened Masala: Spices of India on Fifth Avenue, and on October of 2006 they moved Bombay: Fine Cuisine of India to an expanded location across Fifth Avenue in Hillcrest and reinvented itself as Bombay: Exotic Cuisine of India. Currently, the Popat's are anxiously awaiting the opening of their newest restaurant, Banana Leaf: South Indian Kitchen.
Ashley has worked to ensure some typical Indian dining traditions are replicated at her restaurants. All three—Bombay, Monsoon, and Masala—offer the popular Thali style of dining, inspired by traditional Goan dining, where diners feast on a variety of Indian dishes off a single banana leaf. While plates replace banana leaves, diners who select this dining option are treated to 3-4 entrées served with rice and chutneys, allowing them to taste the variety of exotic spices and flavors in Ashley's dishes. Diners also have a chance to sample variety at each of the restaurant's daily Lunch Buffets, which feature a rotating selection of 16-20 menu items.
Ashley also steps out of the kitchen to ensure the complete dining experience is as enjoyable as the food. "Many Indian restaurants don't put much [effort] into the ambiance, or the service," she explains. Stepping foot into any Popat restaurant, it is clear that Ashley has made a conscious effort to see that each of her restaurants offers a stunning setting in which to enjoy equally stunning food.
---