Jerry Warner
Executive Chef
---
---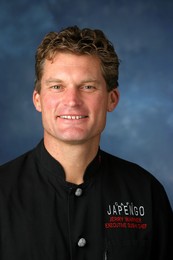 The first thing you notice about Jerry Warner is his smile. Standing behind the sushi bar at Café Japengo, he seems to don a constant grin, as if he is relishing every moment, every piece of sushi he artfully creates. Upon a second look, you might guess the reason behind that smile—it is as if he knows he looks quite out of place, but at the same time knows he very much belongs. You see, Chef Warner is the only non-Asian chef standing behind the sushi bar, yet has served as Café Japengo's Executive Sushi Chef for over 10 years.
Sit down at the sushi counter, and you will find a talented and passionate chef, who 17 years ago, started out as the only "white guy" sushi chef in San Diego. So how did Chef Warner get into sushi in the first place? The story is a roundabout one—he was attending Humboldt State University, working toward a fitness management degree when he took a class in Japanese history. The professor happened to own a sushi restaurant in the area, and Warner took a job there. He was instantly attracted to the cuisine, but also to the unique role of the sushi chef—working in the open, rather than behind kitchen doors, the chefs were able to interact with their guests, and create unique preparations based on each customer's preferences.
While he graduated with his fitness management degree, he was hooked on sushi, and returned to his native San Diego to train under Master sushi chef Osamu Fujiti—at Cafe Japengo. He describes his training (with a smile, of course) as grueling and intense. Fujiti was a mentor, but also a tough teacher, and a "hard core traditional" one. Warner recounts a frequent experience: "If a platter [of sushi] was not perfect, he would through it out and demand I start again. Sometimes it was so intense I would go next door, drink a beer, and then come back and try again. I took lots of abuse but it paid off," he says with a smile.
While he was trained in the traditional methods of sushi preparation, Warner likes to play with both traditional and more creative styles, often combining the two to select from "the best of both worlds." His sushi creations, he says, vary wildly depending on customer preference, and he is just as comfortable crafting perfect, unadorned sashimi as he is putting together a sushi roll that incorporates such diverse ingredients as Cajun spices or garlic aioli. When a Japanese couple sits down at his sushi bar, for example, he'll stick to the classics—as he explains, "I'll go old school on them." Yet when customers are eager to try more creative creations, he'll jump at the opportunity.
Perhaps that is what is so exceptional about Warner—his flexibility, which not only stems from a willingness to go in any number of ways, but from a talent that allows him to do so. His preparations change daily, depending on what is fresh and what his guests like. At the sushi bar, he encourages feedback and interaction, so that he can work with guests to create sushi dishes exactly to their liking. And while Warner may love preparing sushi because, in his words, "anything goes," there is usually only one result: smiles all around.
---