Gerardo Nava
Executive Chef
---
---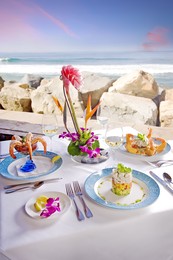 Driven by passion and the innate desire to learn, Executive Chef Gerardo Nava's pursuit of his culinary career has been a strenuous expedition of both gratifying and challenging experiences. Originally from Sona Loa, Mexico, Chef Nava has been a resident of Southern California since his early childhood. A firm believer in reaching any level of success, regardless of credentials or experience, Chef Nava knows the power of faith and persistence. "You can always achieve your dreams, no matter what your situation," Chef Nava replies after briefly explaining his inspiring account of making his way into the culinary world.
Chef Nava discovered his love for food while working as a dishwasher at a restaurant as a teenager. In vivid detail, Chef Nava recalls his first account working with food as a result of a chef requesting his help to do prep that day. "I was asked to cut mushrooms and I remember chopping the mushrooms very slowly—it may have taken me an hour to cut two cases," he recalls. "I was still chopping when a sous chef came in and embarrassed me, cutting his mushrooms in minutes and ridiculing me for taking so long." Although these turn of events could have been heavily discouraging, he instead saw this experience as a source of inspiration to make the unthinkable reality.
For 16 years Chef Nava has been employed at Chart House, 9 of those being executive chef. Although he always had a desire to go to culinary school, the bulk of his career has really been a balance of learning from those that believed in him in lieu of institutional training. "It's like a tiny grain was planted and from there I just never gave up," Chef Nava comments on the internal seed that was planted after his encounter with the chef that shunned him for not being fit to prep in the kitchen. Luckily, there were people that believed in his talent and took time to teach him certain techniques and styles which just further validated his newfound love for being in the kitchen. "Once you fall in love and start prepping and working with ingredients, you put everything together and realize it's all worth it," he shares after reflecting on his rewarding journey.
Known for innovative seafood and steak dishes that are very California inspired, Chart House features pristine menu options that embrace eminent entrees that uphold fresh and quality ingredients. Chef Nava's culinary philosophy is very much aligned with the caliber that Chart House delivers, truly committed to working with fresh ingredients to execute simplistic yet multifaceted dishes. "If you just have a great piece of fresh fish, it's amazing what you can do by just adding fresh basil or thyme. It's the freshness that can't be compromised," he boldly affirms. Although he doesn't play favorites with dishes or certain types of food, "It's just not fair because I love working with all food," he mentions, it is clear that he upholds an undivided principle of working with the best and freshest ingredients in both his kitchen and at home.
The Chart House Cardiff location is pivotal to corporate headquarters, as this restaurant serves as a pilot restaurant for integrating new menu items, especially in seasonal shifts. Although Chart House is a corporate chain, it doesn't confine Chef Nava's creative freedom since he has a very large role in suggesting and implementing menu dishes. This location also serves as a training center so Chef Nava also plays a role in the lives of aspiring chefs that are working in his kitchen.
As Executive Chef, he obviously has a demanding schedule that essentially always keeps him in the kitchen, but when he's not doing what he loves he is surrounded by people that he loves. "It's all about family for me and anytime I get to spend time with my wife and three kids, I'm just happy." He did note that he loves cooking for his family, and as far as their favorite dishes, the consensus seems to be their father's French toast and citrus salad.
As an extremely modest individual, Chef Nava has never forgotten where he comes from and seems to be humbled by looking into his past to better see where he is today. His success is largely stemmed by the influence of what he was taught by others and he feels that his mission is to simply do the same. "Whatever I learn, I share the same passion with my team." Just recently, he had the honor of receiving a visit from a former employee of his that had just become a chef who shared his appreciation to Chef Nava. "When I got that visit from him it was just amazing to hear him say that he made it, and because of me," Chef Nava shares, still processing the value of that statement.
Contrary to how that one chef made him feel in the kitchen, Chef Nava knew that his work environment would always be positive and uplifting. "I've never made anyone feel like they couldn't make something of themselves, even if they knew absolutely nothing about prepping and cooking." His passion for being in the kitchen has tremendously grown throughout his career and he instantly lights up while talking about it. "I just love the sounds of pans and skillets and the way food sizzles when you're cooking," he says boasting a proud smile. Although he'll most likely never tire of being a chef, he did share that if he wasn't a chef he would most definitely be a teacher since he enjoys being with people and being an inspirational leader to others. To anyone who is aspiring to pursue their dreams, Chef Nava finds it important that you always do what you innately love, "If you really like what you're doing, it's just amazing. Your work will never feel like work."
---