Ferry Landing Restaurants
Address:
1201 1st Street
,
Coronado
,
CA
92118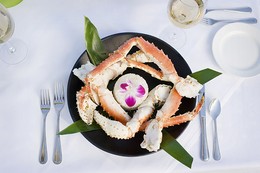 $$$
Top 10
Recommended
Editor's Pick
Private Room
View
Outdoor Seating
Peohe's captures the essence of Southern California dining with its stunning bay front views, Pacific Rim cuisine menu, and chic tropical vibe. This Coronado Island destination is ideally situated just steps from the Ferry Landing and offers picture-perfect views of the Downtown San Diego skyline, as well as an endless parade of passing boats. Peohe's menu celebrates the sea by showcasing the flavors of the Pacific; island cooking techniques are married with tropical accents for dishes that are bold in flavor and freshness. Sushi enthusiasts appreciate Peohe's selection of fresh nigiri, sashimi, specialty rolls, and platters. Likewise, meat lovers rejoice ...
Address:
120 Orange Avenue
,
Coronado
,
CA
92118

Sapori, located on the beautiful Coronado Island, offers traditional Italian fare using fresh, seasonal ingredients to create the food connoisseur's dream. Since 2010, owners Raffaele and Laura Petrazzuolo have worked together to provide the ultimate dining experience for locals and visitors alike, with Laura overseeing the kitchen and her husband Raffaele providing exceptional service. Enjoy the outdoor patio, where you can take in views of Downtown San Diego from across the bay or take advantage of the perfect location for people-watching. Sapori offers an extensive variety of Italian wines to pair with mouthwatering entrees, such as the Steamed Black Mussels ...
Address:
4000 Coronado Bay Road
,
San Diego
,
CA
92118

$$$
Top 10
Recommended
New
Editor's Pick
Special Offer
Private Room
View
Mistral, located in the luxurious Loews Resort on Coronado Bay, features award-winning dining attracting locals and resort guests alike. Accomplished Chef de Cuisine Patrick Ponsaty offers fine French cuisine infused with Mediterranean flavors set to serene ocean views. Take in the ocean breeze on the patio or dine indoors next to one of the many large windows and bask in the sophisticated and elegant décor. Mistral allows guests to indulge in a variety of ways: choose the more casual bar bites offered in the lounge, the classic but seasonal-inspired dinner menu or the seasonal tasting menu— no matter what you ...