Arturo Mejia
Executive Chef
---
---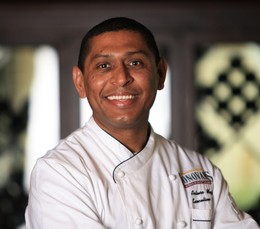 Often times, the most valuable knowledge in a kitchen is gained through first-hand experience. In the case of Arturo Mejia, Executive Chef for Donovan's Steak and Chop House in Downtown San Diego, learning through experience has created an expert.
Chef Mejia was born in Acapulco, Mexico. As a child, he admired his father's skill in the kitchen, commenting that "it amazed me the way he combined spices and seasoning." His father is one of the most powerful influences in his life, and watching him cook helped him aspire to one day attain skills of his own. And so, he set himself to the task.
Since culinary school was not affordable, Mejia decided to work while acquiring knowledge and cooking experience from professional chefs. In 1992, he began a job at Piatti, an Italian restaurant and bar in La Jolla. At first, he started on the pizza station, but he quickly made his way up through the ranks. In less than one year, he had successfully worked and mastered the pantry, sautee, and grill stations. He then moved on to other restaurants, including Prego and Tutto Mare, to further expand his skill and expertise.
After achieving much success in these Italian restaurants, Mejia set his sights upon other types of cooking, and he began looking to move into a steak house. He started working at Donovan's of La Jolla as the Sous Chef, again utilizing first-hand experience to learn new skills, while doing something he enjoys. Under the direction of Chef Martin Venegas and Chef Sal Reynoso, he gained valuable training and knowledge of the proper ways to prepare and serve fine cuts of steak. He also received great insight into modern methods of seafood presentation and how to be a leader in the kitchen. With time and effort, Mejia mastered his new skills, and the feat did not go unnoticed.
Chef Sal Reynoso has since stepped down as the Executive Chef for Donovan's of Downtown, and with such a tough act to follow, the decision was clear. The man to replace him would be none other than his former Sous Chef, Arturo Mejia. With an important role to fulfill, the eager chef has stepped up to meet the challenge head-on, and he continues to do his former mentor proud. Chef Mejia's favorite aspects of his job are working the broiler, preparing seafood towers, and most of all, coaching others. With the philosophy of "Do it right or do it twice", he believes that every dish should be prepared as though it is for his own family. He also believes that learning has no boundaries, and he is passionate about helping others and giving them opportunities to learn, as other chefs have done for him.
To Mejia, nothing is more exciting in the kitchen than a busy night of non-stop cooking. He takes pride in the many compliments received for the quality food and service at Donovan's, and he enjoys sharing positive feedback with the kitchen crew. Chef Josh McGinnis, a former colleague at Prego and one of the major influences on Mejia's career, used to tell him that "the kitchen should be fun" and that he should enjoy what he does. So, he tries to incorporate this idea in his own work place, because at the end of a stressful day, it is still just cooking.
Taking after his father, Mejia utilizes versatile combinations of spices and seasonings in ways that he hopes will amaze his patrons. His favorite ingredients are garlic, thyme, rosemary and Worcestershire sauce, which can be found in most of his soups. But, his favorite item from the menu is the sixteen ounce Cajun Rib Eye with melted blue cheese. He also loves seafood and is known to enjoy an occasional glass of merlot, just one of many varieties that can be found on Donovan's award winning wine list.
Donovan's exudes excellence. From the sophisticated décor to the prestigious menu, the restaurant is a true fine dining establishment designed with high class in mind. Such a restaurant requires a chef that is capable of meeting and surpassing the expectations of diners with every dish that is presented. Through hard work and hands-on experience, Executive Chef Arturo Mejia has proven that he is the right man for the task. Outside of the kitchen, he is an avid family man, and he spends as much time with them as he can. Come be a part of the Donovan's family, and allow this talented chef to prepare a meal especially for you.
---
---