Ronald Bankston
Executive Chef
---
---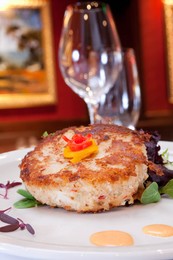 Chef Ronald Bankston greets me with a genuine smile, grabbing a seat beside me. It is a mere hour before the dinner rush but the Chef is relaxed, giving me his full attention. Representing true commitment to the Donovan's special brand of excellence, Chef Bankston started out as Sous Chef at Donovan's of La Jolla in 2008 before landing the coveted Executive Chef post at Donovan's Prime Seafood.
Bankston grew up one hour north of New Orleans, and the vibrant city definitely influenced his cooking style. When asked about his experiences with Hurricane Katrina, Chef Bankston simply states that "an event like that affects you." Helping with the rebuilding process served to reshape his view of the world. By his friendly but down to earth demeanor and "keep it simple" cooking philosophy, it is easy to tell that Chef Bankston does not have the big ego usually associated with the Executive Chef title.
Chef Bankston's culinary prowess first began with his training at the Louisiana Culinary Institute, Baton Rouge. During his time down South, Bankston enmeshed himself in the art of Creole cooking, thanks in large part to mentor Chef Gus Martin, who taught him the intricacies of Creole cuisine. He further got the flavor for New Orleans specialties under the tutelage of Chef Bob Iacovon of Rumbla and Curve.
Similar to the Donovan's Restaurant Group's exceptional reputation, Bankston serves diners top of the line fish at Donovan's Prime Seafood. His passion is seafood and he aims to make each piece of fish that he cooks the true centerpiece of the dish, highlighting the natural flavor without dousing it in thick, heavy sauces. His favorite dish currently on the menu: Kona Spiced Ahi Tuna with beluga lentils, cipollini onions, and green garlic sauce. Chef Bankston wants his diners to have the best dining experience possible. He explains, "If you're not going to enjoy yourself, why pay for it?" When asked why he enjoys working for Donovan's he replies, "Donovan's is small, local." He is allowed to embrace his creativity-- able to cook dishes that he loves to eat.
It seems that his culinary training and mentorships have provided Chef Bankston with a dynamite set of skills that will keep patrons of Donovan's Prime Seafood savoring every bite of his creations.
---