Steven Chung
Chef
---
---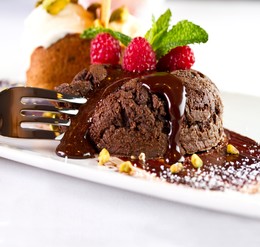 Fleming's Steakhouse & Wine Bar is a steakhouse of a different kind. The menu offers alternatives to traditional dishes that are sure to please everyone. The kitchen is headed by Chef Steven Chung, who has been in the restaurant business for over 27 years. Thanks to Chung's extensive restaurant experience, Fleming's kitchen runs like a well-oiled machine, even during the peak of service.
Chef Steven Chung began his foray into the culinary world when he was just six years old, helping his parents at their family-owned Chinese restaurant. During Chung's teenage years, his love for the kitchen grew as he ventured into catering. His personal catering business eventually provided the valuable skills he needed to begin working in other restaurants.
After many night shifts working at a sushi restaurant, Chung made the decision to attend culinary school at the Los Angeles Art Institute. His previous restaurant experience allowed him to quickly excel in all his classes. Upon graduation, Chung took advantage of Los Angeles' diverse food culture by creating Seoul Grindz, a fusion Hawaiian and Korean Barbeque restaurant. He then sold his successful restaurant a few years later, which enabled him to tour Asia. During his culinary travels, he explored the cooking styles of Japan, Korea, and Hawaii; experiences that have been key to the development of his unique cooking style.
Before he found himself in the kitchen of Fleming's Prime Steakhouse & Wine Bar, Chung was Executive Chef of The Capital Grille at The Beverly Center in Los Angeles. He first joined the Fleming's team as a sous chef in their downtown Los Angeles location. After months of hard work, Chung relocated to Fleming's in La Jolla where he now works as Chef Partner.
Chef Chung emphasizes his love for Fleming's philosophy of creating a welcoming atmosphere that appeals to everyone. He is pleased that the menu slightly veers from tradition by offering items that cater to women; case in point, the Small Plates and the 99 calorie cocktail. The Lobster Tempura with soy-ginger dipping sauce and Filet Mignon Skewers with gorgonzola-bacon fondue are just a sampling of the exciting items found on Chef Chung's Small Plates menu.
In the kitchen, Chef Chung operates with intense attention to detail. Throughout dinner service, he can be found on the expo line inspecting each plate before it is brought to the tables of his guests. Chung is proud of his open kitchen, stating that they have nothing to hide in their pursuit of perfection. His team of sous chefs creates dishes from a collection of over 400 recipes, and Chung guarantees that every food item leaving the kitchen is made fresh by hand.
Chef Chung closes by admitting that he is a perfectionist who truly believes that restaurants "need to adapt to move forward". His dedication to his craft shows through in his food at Fleming's, one bite of the Filet Mignon is all one needs to understand why he is the leader of Fleming's kitchen.
---
---