Chanchal Singh
Executive Chef
---
---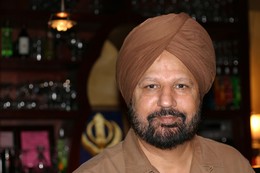 Executive Chef and Owner Chanchal Singh got into the restaurant industry because he loves to cook. His career started in Southern California over 25 years ago, after moving to Los Angeles from India. While he grew up in Northern India, he often traveled to Southern California to visit, and eventually moved here in 1980.
He worked in several Indian Restaurants in Los Angeles, including the Kabob Center in Culver City, Star by the Sea in Redondo Beach, and Sitar in Anaheim. After a dozen years working for other restaurateurs, he decided to open his own place.
In 1993 he moved south, to Encinitas, where with the help of his now-current landlord he found a location for his first restaurant, A Passage to India. The restaurant was a success (it still is), and he soon opened a second location in Rancho Bernardo.
Three years ago, in 2005, he had the opportunity to take over India Palace in Hillcrest, bringing central San Diego the flavorful Northern Indian cuisine he had spent years preparing in North County. He now juggles running India Palace as well as his two Passage to India restaurants in Encinitas and Ranch Bernardo.
When asked how it is to manage three locations, he cites his family. "My son runs the one at Rancho Bernardo, and my other son and my wife are at the Encinitas location. But we all move around, sometimes my wife comes here, and I go up there," He splits his time between the locations. "My sons go to college and work."
With over 25 years of experience in the kitchen, he still loves cooking. He cites this as his favorite aspect of owning his own restaurant. He also enjoys talking to and interacting with his customers, and is always happy to explain the menu or suggest some of his favorite dishes.
Two dishes he recommends during our visit are the Tandoori Mixed Grill, a platter that allows a little of everything cooked in the Tandoor oven, as well as the Mango Scallops, a sweet, delicate seafood curry. Regardless of what you try at India Palace, however, you're sure to find flavorful, authentic Northern Indian cuisine prepared with pride by Chef Singh.
---