Deborah Scott
Executive Chef
---
---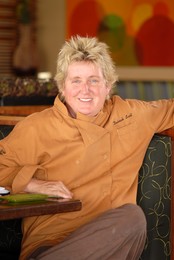 Chef Deborah Scott's passion for food originated on camping trips she used to take with her father near Cape Hatteras. Together, they would rake the beaches for oysters and clams and also fish for flounder and bait crabs. They would take this fresh seafood and cook it right there on the grill for friends and family to enjoy.
After acquiring a bachelor's degree in English from Old Dominion University in Norfolk, Virginia, she decided it was time to pursue her true passion: gourmet cooking. She started her professional education at Baltimore International Culinary College and excelled past her contemporaries. Later, she brought her talents to the graduate studies program at the Culinary Institute of America in Hyde Park, New York.
In the early 1990s, Chef Scott moved to San Diego and opened Indigo Grill in Little Italy where she was responsible for the creation of everything from the menu to the décor. It was here that she had the opportunity to meet with David and Lesley Cohn about the creation of Kemo Sabe, a southwestern and Asian fusion restaurant that is now thriving in Hillcrest as a direct result of her creative and thoughtful culinary creations.
Today, Chef Scott maintains in her restaurants the down-to-earth philosophy she acquired at an early age from her father. As co-owner and head chef of Island Prime, she serves rustic cuisine focusing mainly on metro steaks and seafood. She uses fresh produce that is often grown specifically for her. A board member of Project Wildlife, Chef Scott does what she can to help the environment. In an effort to stop water from being imported while we have local water sources, she has special glass bottles filled with premium spring water bottled at Palomar specifically for the restaurant. Profits from the bottles sold at Island Prime are donated back to Project Wildlife.
Chef Scott has received many accolades, and yet she remains supremely humble. She keeps things simple, bringing out natural flavors and playing with texture combinations. Constantly inventing new dishes or renovating old ones keeps costumers coming back to taste the next wonderful creation. She believes that anything can taste good if you do the right things to it and she proves daily that she knows what those tricks are. Chef Scott's dynamic record shows such a passion and flair that it's no wonder she's attracted such a supportive following of fans and critics alike.
---
---