Jonathan Hale
Executive Chef
---
---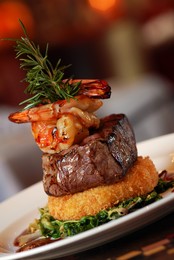 Executive Chef Jonathan Hale brings a diverse style and an expert skill set to the four kitchens of The Prado at Balboa Park. Described as Modern American or California cuisine, the food that Chef Hale prepares offers diners something a bit more than typical American fare. He applies various cooking techniques that combine culinary aspects from multiple origins, and he utilizes only the highest quality ingredients to ultimately produce dishes that are new, fresh, and delicious.
From a young age, Chef Hale knew what he wished to become: a brilliant cook. This desire may have stemmed from the enjoyment he experienced when trying new types of food from around the world. As a child, he was raised in London, England although he was born in India. He moved to the East coast of the United States when he was a teen, finishing his high school days in New York, and it was in Massachusetts that he began his first job. He was a waiter, but upon discovering that his true passion was in the kitchen, Hale returned to New York where he pursued a higher education at the Culinary Institute of America.
After graduating in 1991, he headed west, eager to test himself and his newfound knowledge. He settled down in Aspen, Colorado where he found work at the Renaissance Restaurant as Chef Tournant. After his first taste of life in the kitchen, he spent the next two years practicing and preparing for what his future held in store. It was not long before his curiosity gained the upper hand and he felt it was time to branch out and make his mark on the culinary world. After the Renaissance, Chef Hale took his talents to Hawaii, where he hoped to gain experience preparing the freshest seafood possible.
Once Hale established himself, he set out in search of work. Jean-Marie Josselin, one of the twelve founding members of Hawaii Regional Cuisine and a renowned chef, offered him the opportunity to work at the award winning Pacific Café in Maui and Kauai. He began as a line cook, but his talent was noted and he advanced quickly. He soon became Executive Chef of Pacific Cafe, and he spent seven years fine-tuning and perfecting his new passion before he made the decision to move once again.
In 2001, Hale arrived in San Diego, where he stepped in as the new executive Chef of Blue Point Coastal Cuisine, a successful Cohn Restaurant boasting fresh seafood creations in the famous Gaslamp Quarter. He, along with his team, created an award winning menu receiving such accolades as Favorite Place to Dine, Best Seafood, Favorite Wine List, and Best Customer Service from the Gaslamp Quarter Association. He quickly distinguished himself as both a leader and an innovator for the Cohn Restaurant Group, and they have since provided him with another opportunity to expand his expertise.
In 2010, Chef Hale made one more move, and currently holds the reins as Executive Chef of The Prado, the Cohn Restaurant Group's award winning restaurant at Balbo Park. He applies the styles, techniques, and unique flare, which he has developed over the years, towards offering patrons and authentic taste of what the state of California has to offer. His ingredients are seasonal and always fresh, allowing him to keep his menus in constant evolution. He loves working alongside his culinary team, and his favorite aspect of life as a chef is his ability to "create a dish, market it, execute it, and do it all over again the next day." For him, the thrill of creating something new and unique "just doesn't get old."
The Prado at Balboa Park is a true ode to San Diego comfort. And the cuisine offered up by Executive Chef Jonathan Hale and his well-trained culinary team is sure to impress even the most particular diners. Come enjoy a meal at The Prado. Whether you are having a romantic dinner, or just enjoying lunch in the San Diego sunshine, Chef Hale will prepare a delicacy to remember and keep you coming back for more.
---