Hideko Edwares
General Manager
---
---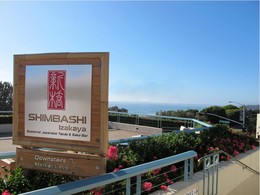 Since the chefs, Ikko Sonemoto and Yoshi Nohara, were busy at the time we came for the review, we were able to talk to the General Manager, Hideko Edwares, who plays a major role regarding customer service, food and drinks, and the restaurant itself.
Hideko, a very bubbly and cheerful person, offers a warm smile to us as she sits down. She looks at me and grins ready to answer any questions; she took time out of her schedule to talk to us, so none of us feel rushed with asking or answering questions. Her friendly demeanor makes the Q&A seem more like new friends getting to know more about each other.
Do you know how your chefs came into the culinary field?
All of our chefs come from Japan. Yoshiro was raised in a family-owned restaurant. Ikko's story is a bit interesting and funny because he was originally in school, majoring in German. She explains that he found a part time job as a staff member at a food establishment, where his interests soon turned toward cooking.
How long have you been connected with the restaurant?
I have worked here for two years, since June.
What's your favorite part of the job?
She smiles at this question as she takes a few seconds to think it over, "hmm, well, meeting people like you and our new and returning customers, and seeing their reactions to the food--seeing their face light up, when they taste something here they really like."
Do you have a favorite dish on the menu?
She gives a light chuckle as she thinks it over and waves her hand dismissing the question; she smiles and says, "so many, there are just too many good dishes to choose just one."
Do you offer seasonal menus?
Yes, we have specials for summer and winter, like in winter we have the some Hot Pots offered. We also have events at certain times like the Beer and Sake Festival.
Are there any new items on the menu that you are especially excited about?
Oh yes, we offer one new thing called "Roll Your Own Sushi". It's a whole sushi set full of the food and items you need to make it; it's great for parties, it's a lot of fun!
Do you have daily recommendations?
Yes, it all depends on local markets and what's in season; same goes for the Sake as there are more than 30 different kinds of Sake.
Who picks out the Sake?
Hideko gives a wide grin, "I do, I personally hand-pick the Sake."
Do you have a favorite kind of Sake?
Yes, Shinzui, it is very good, but the most expensive; but it is incomparable.
Is all of the food bought locally or is some imported?
Some is locally sourced like some of the vegetables. Some are all over from the seven seas, and some items we import directly from Japan, like our Blue-Fin Tuna.
Over those two years, what would you say has been a real challenge for the restaurant?
We have a lot of return customers, but due to our location, in the Plaza Mall end, many people have a hard time finding us or do not know we are here; so it's harder to get new customers because of the location.
Do you offer private dining rooms?
She looks around the small restaurant and shakes her head, "No private dining rooms, but large parties can book the patio to celebrate special occasions."
---