Edward Fincher
Executive Chef
---
---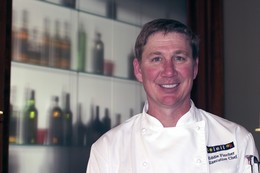 Executive Chef Edward Fincher joined Soleil @k in May 2007, in the height of baseball season. The timing would be hardly noticeable were it not for the restaurant's location; Soleil @k is just steps from the ballpark, and the foot traffic that passes the first floor restaurant in the Marriott Gaslamp is astoundingly high on game days. Much of the traffic—undoubtedly allured by the patio and open-air restaurant—trickles in, and the restaurant finds itself at its busiest. Taking over the restaurant in May meant trial under fire.
Fincher must work well under pressure, because he's already looking forward to next baseball season. "There are a lot of things we will be doing differently this year," he explains. In the mean time, there are a lot of things Fincher is doing differently in general. He felt his first challenge coming on board was to work with the staff, to introduce them to his style and get them on the same page. He spent months working to establish cohesiveness. He also worked to overhaul the restaurant's suppliers, switching to products such as natural beef (grass fed and hormone free) and to local vendors when possible.
Once he felt his staff was working together as a team, he set about completely revamping the restaurant's menu. He kept the restaurant's original concept—"New American" cuisine—but added all new dishes, introducing a style founded on simplicity. His overarching theme is to "keep it simple, to not overwhelm plates." His dishes tend to veer on the "fun and simple" side, rather than being "too overly complex." He wants to keep his dishes accessible to guests, even those that are not used to fine dining.
Still, his definition of simplicity doesn't exclude playfulness. Many of his dishes are unique renditions of the traditional, such as the lobster ravioli, which is actually a deconstructed, open-faced dish featuring plump pieces of lobster atop a flat pasta sheet. "I wanted guests to get the flavor of the lobster," he explains. Or his mussel chowder, which is less a soup than a bowl of steamed mussels resting in a pool of flavorful curry pancetta broth that serves as dip rather than soup. "When I explained these dishes to my staff, they asked, 'are you crazy?' and I said, 'well, yeah I am kind of.'"
Fincher's background in the culinary arena goes back to his teenage years, when he took a dishwashing job at age 13, in his hometown of Dallas. At the time, it was just a job for him—he says: "I would ride my bike, wash dishes, and go home." When he realized he "didn't want to be in the dish pit forever," he began working his way up the ranks and into the kitchen.
After graduating high school and spending nearly five years in the kitchen, he intended to enroll in the Culinary Institute of America when an apprenticeship opportunity opened up. He moved to Miami to spend two years at Bernard's, a formal, French-Continental restaurant housed in an old Spanish-style mansion. "I learned ten times more there than I would have at the CIA," he claims, explaining how once the chef's saw his curiosity and drive (he would get caught peeking around corners to see what secret ingredients were being added to a dish), they "took me under their wing and said 'we'll teach you everything we know, and when you leave, you can take a part of us with you.'" Two years in the fast-paced environment—the restaurant often served 500-600 guests a night—provided him with a lot of learning on the job.
After completing his apprenticeship, he still had a desire to learn. He moved back to Dallas and spent the next four years working in as many different situations as he could. "I was an AM sous chef at one restaurant, a PM sous chef at another, I moved around to see as much as possible," he explains. All of this learning helped him work his way up the ranks for a second time. Four years later, when his wife was transferred to a job in San Diego, he figured he could get a job anywhere.
His first San Diego job was at the Stone Ridge Country Club in Poway, where he set to work transforming the food and beverage service. "I had this mentality that I was going to run the country club like a restaurant," he says, something that was revolutionary to the country club at the time. He explains how "there were all these people at the country club, playing golf and tennis on top-notch facilities," and how he wanted to bring the dining service up to par with the rest of the club. In the five years he spent at Stone Ridge, he is able to say, "I took the Food and Beverage service from doing nothing to doing one million [in sales] a year."
That was an impressive feat, and soon others began to notice. He started getting phone calls from other country clubs interested in recruiting him. He eventually took a position at La Jolla Country Club, and later worked in catering for a few years. He also helped open the Grand Del Mar before taking the position of Executive Chef at Soleil @k. "You have a limited clientele in country clubs," he explains of his decision to move to more public positions.
Taking the helm at Soleil @k, Fischer is excited about hosting guests in a space that has the potential to become a neighborhood restaurant, a place where San Diegans can gather around the table. Based on what he is doing so far, it is seems only a matter of time before downtown residents and baseball fans make Soleil @k a regular stop.
---