Jean-Michel Diot
Executive Chef
---
---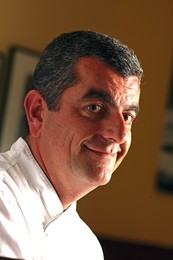 Jean-Michel Diot was born and raised near Lyon. His first inspiration for cooking came from his grandmother's Sunday family long meal.
1975 is the begining of his commitment to cooking. Jean-Michel started his restaurant career by entering as apprentice at Restaurant Magnard, 2 stars Michelin in Vienne, alternatively with a school. He graduated with honors.
Jean-Michel Diot started his "Tour de France" at Restaurant "La Pyramide" an heritage of Fernand Point to the French culinary institution, rated 3 stars Michelin and moved to Restaurant Jacqueline Fenix in Neuilly, 2 stars Michelin. Michel Guerard at "Les Pres et les Sources d'Eugenie" 3 stars Michelin.
Jean-Michel was offered a Chef position by Jacques Chibois at "Le Royal Gray" in Cannes, 2 stars Michelin where he stayed four years. He became Executive-Chef at "Le Chateau d'Esclimont" near Paris, the Larochefoucault residence, a 16th century jewel, 2 toques Gault and Millau, before flying to New York in 1987 to open Maxim's de Paris as Executive Chef.
1989 is a revolving year for Chef Diot as it marks the creation of Park Bistro his restaurant, the only New York bistro being rated 3 stars New York Times. "Park Bistro has deftly pulled together all the elements that define a bistro. If any bistro in town exudes a happy glow, it is this one" Bryan Miller New York Times April 1990.
In 1990, the successful Les Halles a French Steackhouse for astute New Yorkers. "Baron of Bistros" House and Garden November 1991. In 1990, Park Avenue Gourmandises a casual cafe and Park Avenue Townhouse, exclusive caterer for the Museum of Radio and Television, private clubs and a refine clientele.
In 1992, La Brasserie des Theatres opened in the Theatre district.
Jean-Michel Diot has been widely acclaimed by restaurant critics and writers for bringing to the New York restaurant scene a refreshed French style in cooking in restaurant conceptuals. In La Jolla, where Chef Jean-Michel Diot has opened Tapenade Restaurant in June 1998 there is a variation in the conceptual of the restaurant. It is an elegant casual restaurant.
The food is as always the reflection of a summer in Provence. Located in one of the upscale vicinity of San Diego, Jean-Michel Diot is one more time making the unanimity of the dining scene. "The promenade to La Jolla's Tapenade is easy to understand : Chef Jean-Michel Diot's creations are superb".
---
---