Alex Fernandez
General Manager
---
---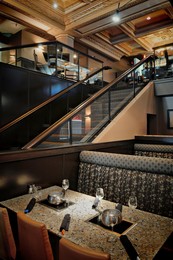 While the Melting Pot kitchen is distinctly without a traditional chef, this is not to imply that it is lacking in leadership or talent. This downtown restaurant is manned exclusively by experts: every employee of the Melting Pot has undergone intensive training in the art of entertaining and, more specifically, fondue. And heading up this team of fondue aficionados is a man who loves his cheese almost as much as his job.
Alex Fernandez is a valued member of the Melting Pot management team, and was kind enough to not only orchestrate an incredible evening of dining and indulging for me and my guests this evening, but he also sat down to tell us a little bit about his experience with this unique establishment and style of dining.
Alex, can you tell us a little about your experience in the food industry?
"I've been at it over half my life – sadly - and I love it! I started out in Houston, Texas, working for the Carrabba's group. [I] Started out serving, went to culinary school, and got into management… Then at 28 I decided to move out to the west coast to live the dream… so I packed my bags and headed out."
Alex explained that once in San Diego, he signed on with Fleming's Steakhouse, where he worked for two years. During this time he had the opportunity to open two restaurants as a partner. These ventures took their course, and once closed, gave Alex the chance to enjoy the summer of '09 before being introduced to the Cohn Restaurant Group. The Cohn Group had made the brilliant move of purchasing franchise rights to the Melting Pot, and Alex was quickly on his way to becoming the self-proclaimed Mad Potter he is today.
Due to strict historical society regulations regarding the renovation of historical landmarks like the Gaslamp Plaza Suites building, the restaurant could not open until March of this year. Alex noted, "Once the construction was complete, we hit the floor running and are having a lot of fun with it!" He added with a smile, "It's like getting to host a party every night – you've got a fun little room, great people that come through the door – it's basically like hosting a party at your house. I get to play the mc role, bounce around, and have a little fun."
I commented on how obvious it actually is that the Melting Pot staff does enjoy what they do; from the jovial nature of the servers to their impressive ability to connect with every guest at each table.
To this, Alex replied:
"I'm glad that it comes through. We're very fortunate at this point to have the crew that we do. When we started the interviewing process in January and February, it was a sign of the times that in five days we had over 550 applicants. It was a little overwhelming. You start picking people out by their experience, but then beyond that you begin going by this concept that you need folks with great personalities. We need them to be able to talk to anyone and have a great conversation because they're going to sit there and melt cheese for 10 minutes – you can't sit there and not say anything the entire time. When we finished hiring, I felt pretty solid about the crew we had."
"I'll be honest, when we finished screening [resumes] and got down to second-round interviews, we had 90 applicants that we had to dwindle down to 30… at that point it wasn't about experience anymore; it was about attitude, personality, and conversation skills… And then coming out of 2 weeks of [Melting Pot franchise] training, I'm wondering 'what if the kids don't play well together? What if they don't get along?' But we're very fortunate, because everyone works great as a team and everyone gets along and really enjoys doin' what they're doin'."
How has the neighborhood welcomed you?
"It's been good. One thing we made sure we did after we opened was to go around to the different businesses in the Gaslamp and let them know we were offering them our employee discount for the first few months. Especially for the valet and concierge people, we invited them to come out and take our 50% off discount. This is such a different concept that you want them to come in so they can better explain it to their guests. For the concierge, the owners also invited them for our "Big Night Out" – the dinner-for-two special currently featuring the Pacific Island theme… it's a great help to us for them to be able to communicate what we do in these four walls, in terms of dining…"
"This is such a unique experience, obviously, because everything comes [to the table] uncooked, unprepared. It's very interactive: you're into it just as much as we are. There's not one piece of cooking equipment in the kitchen. The only piece of equipment we have in the kitchen is one microwave, and that's to melt butter for the lobster. Other than that, everything gets cooked out here."
The behind-the-scenes action must be so different compared to other kitchens. Does the prep work – the slicing and dicing – get done here?
"It does. The meats come pre-cut; the lobster tails we do ourselves; the marinades we do ourselves. All the veggies, all the breads, everything just needs to be prepped in-house. The cheeses do come grated: Thank goodness! The preparation is basically 'you're the chef!'"
Alex explained what originally drew him to the restaurant business, and what inspires him still. "You get into this industry because you love bringing smiles to peoples' faces, and then you move on because you need to make more money. This is a place where you make what you need to earn a living, but you also have the gratification of why you got into the industry in the first place."
I have to ask, what's your favorite thing on the menu?
"The Spinach Artichoke Cheese that I sent over to you. I tell you, if a week goes by and I don't have that, I start going through withdrawal symptoms!"
After going on to list 10 more of his "favorite" menu items, Alex filled us in on a line he likes to use when guests compliment the food.
"With a chef like you, how could we go wrong?" Indeed, it seems that Alex Fernandez and the Melting Pot are doing everything right!
---
---