Danny Nobili
Owner
---
---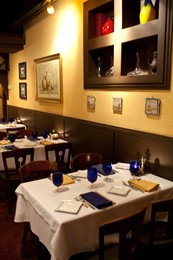 Bringing authentic Northern Italian cuisine to Southern California has been quite the adventure for Restaurant Owner and Executive Chef Daniel Nobili. A native of Milan, Chef Nobili attended culinary school in Italy where he worked in the restaurant industry for many years before coming to the States to further pursue his career. He ended up in America after working on U.S.-based cruise ships and was given the opportunity to take over the Del Mar neighborhood restaurant that he would rename Trattoria Ponte Vecchio.
A talkative man, Chef Nobili charms his diners with a passionate take on tradition and a direct attitude towards cooking. Taking a very personal approach to his dining house, Chef Nobili has filled his menu with the same cuisine he grew up eating, blending old-world Italy with modern fare. Milanese dishes like the Ravioli di Zucca al Burro and Salvia, or ravioli stuffed with pumpkin in butter and sage sauce, and an entire list of veal options stay true to his upbringing allowing the flavors of Milan to permeate through San Diego. His main goal with the establishment of Trattoria Ponte Vecchio is to bring the flavors of Northern Italy to Del Mar.
After speaking to Chef Daniel, he stated that he enjoys offering the more traditional dishes as daily specials before adding them permanently to the menu. Items like frog leg risotto and rabbit are some that did not make the cut, but by catering his menu to his customers, Chef Nobili has managed to create a local stir. By adding ingredients like avocado and cilantro, which are not typically thought of as Italian, he brings the flavors Southern Californians are comfortable with to a his establishment.
The kitchen is where Chef Nobili spends most of his time when at Trattoria Ponte Vecchio. Like a traditional Trattoria, which is a family owned and operated eatery, it is the owner who oversees and participates in the concoction of every dish. Long-established skills, an eye for interpretation and a palate for authenticity are what make Chef Daniel Nobili a treasured master of Italian cuisine in San Diego's culinary community and Trattoria Ponte Vecchio.
---
---