Chef Mario Batali & Joseph Bastianich
Owner
---
---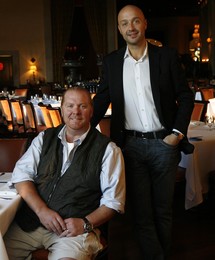 Chef Mario Batali and Joe Bastianich are inseparable, two peas in a pod. Since 1998, these two have collectively brought to the foodie community attractive restaurants that showcase the culinary acumen of Chef Batali and Bastianich's business savvy for what is hip and important to the fine dining culture. Like a fine red wine and a succulent steak, or spaghetti with meatballs, Bastianich and Batali complement each other, creating a harmonious tune that entices anyone with working taste buds.
Born in Seattle, Washington, Chef Batali didn't start off his career path wanting to be a world renowned chef and creating flavor combinations that would make your salivating mouth leak. He attended Rutgers University to study the histrionic traits of the Golden Age of Spanish Theater. However soon after graduating in 1982, he took his first stab at traditional culinary training at Le Corden Bleu in London in which he withdrew immediately due to a "lack of interest." He felt that Le Corden Bleu was not for him, and the best way for him to learn was to get elbow deep in a professional kitchen. Clearly this wasn't the end of the road for Batali, he went on to serve as an assistant in the kitchens of the legendary Chef Marco Pierre White, and for three years he continued his intense training in the Northern Italian village of Borgo Capanne, a small town with a population of 200. Under the watchful eye of Chef White and his unique experience in Borgo Capanne, Chef Batali's culinary skills catapulted to new heights, and with his newly acquired aptitude of Italian fare, Chef Batali returned to the States and met the other piece of the puzzle that would bring his culinary empire to life, Joe Bastianich.
Joe Bastianich, the son of Lidia Bastianich—an American chef specializing in Italian cuisine, as well as an author and restaurateur—revolutionizing the Italian food and wine world. Bastianich introduced people to new restaurants, a retail shop, a winery in Italy, books and more. Partnered with his mother, Joe opened up his first restaurant, Becco, located in New York's theater-district. Here is where Joe created major buzz with his idea of a "prix fixe" wine list, bringing Becco near the top of the list of hotspots in The Big Apple. Then in 1998, Chef Mario Batali and Bastianich opened up their first restaurant, Babbo Ristorante e Enoteca, their flagship restaurant where Joe's business expertise and Chef Batali's traditional Italian skills flourished in an award-winning Greenwich Village dining establishment. Babbo soon attracted critical praise like an astounding three stars from the New York Times and was honored as The Best New Restaurant in America from the James Beard Foundation.
Although Babbo Ristorante e Enoteca quickly climbed the ladder of culinary supremacy, Joe Bastianich and Chef Batali didn't stop there. The pair opened multiple restaurants since Babbo's inauguration—Lupa, Esca, Otto Enoteca Pizzeria, Casa Mono, Bar Jamon, Bistro Du Vent, Del Posto, Enoteca San Marco, B&B Restorante, Tarry Lodge, and CARNEVINO. Most of their business ventures showcase Chef Batali's culinary genius in Italian fare; however they did branch out to provide a slightly different flavor palate by exploring Spanish cuisine in their restaurants Casa Mono and Bar Jamon.
Together they are indeed an unstoppable force within the food world, yet individually, they still continued their personal legacies. Chef Batali is an Iron Chef America alumist, where he frequently battled against challengers in Kitchen Arena. He also hosts the Food Network program, "Molto Mario" where he educates viewers on his philosophy and principles of Italian cuisine. More recently, Chef Batali and NASCAR have teamed up together to create the first ever cook book for NASCAR fans. In the book, Chef Batali gives helpful tips and tricks on how to construct a memorable NASCAR tailgate feast pre and post race. Bastianich ventured to his ancestral grounds of Friuli-Venezia Giulia to build his acclaimed wine estate, Azienda Agricola Bastianich. Soon after, he migrated to Maremma, Tuscany to open the wine estate La Mozza s.r.l. To go along with his excursion into the wine industry, Bastianich teamed up with Babbo's Beverage Director and journalist David Lynch to write a comprehensive guide to all Italian wines called Vino Italiano. He then paired his award winning book with another, Vino Italino Guide, to help further educate wine afficianados on the delicacies of Italian vintages.
Joseph Bastianich and Chef Mario Batali have enlightened both veteran and novice foodies alike to tastes of not only true Italian cuisine, but dishes that are fundamentally marvelous all the while beguiling the culinary senses. It is a safe bet to consider that these two will continue on showcasing their talents to the food community whether as two peas in a pod or as individuals sprouting their own roots. Rest assured that their end product will be none the least sensational.
---