Bruno Davaillon
Executive Chef
---
---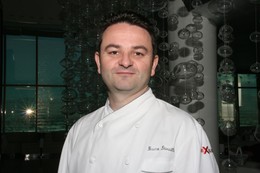 Farm-Raised Chef Delivers Vibrant Cuisine to Vegas
Bruno Davaillon grew up as a member of a farming family in France's Loire Valley, which meant early access to fresh butter, cream, eggs, vegetables, and animals, dream ingredients for a future chef. According to Davaillon, "My great aunt had a big farm. At six or seven, I remember being in her kitchen, using all the natural products from the farm. That was the key." By the age of 14, after years of helping his family cook farmhouse meals, becoming a chef was a "natural choice."
A few years later, Chef Davaillon enrolled at Chateauroux Culinary School, where he attended cooking classes and apprenticed at La Ligne, one of the best-known restaurants in Tours. He performed admirably, and after he graduated from culinary school in 1982 with a CAP degree, he managed to stay on at La Ligne as First Line Cook.
Davaillon earned his first international restaurant experience as Lead Line Cook at Tante Claire, a Michelin Three Star restaurant in London.
For the next eight years, Davaillon cooked in France, as Chef de Partie at Domaine de Belmont and Chateau de Locguenole and as Sous Chef at La Vieille Fontaine and La Ferme St. Siméon. Davaillon honed his creativity during this stretch.
In 1997, Davaillon transitioned to the United States, working as a private chef for Ambassador Antonio Fernandez, planning menus for lunches, dinners and formal functions.
In 1999, Davaillon continued with his personal Manifest Destiny, accepting the position of Chef de Cuisine at Encore Restaurant in Los Angeles' St. Regis Hotel. Thanks to his high profile position and noteworthy performance, he earned his first Executive Chef post, at Beau Coup in San Francisco.
It was in San Francisco that Davaillon met a chef who knew Alain Ducasse. The famed French chef was planning his first Las Vegas venture, and Davaillon had a compatible approach to cuisine. According to Davaillon, "I never worked with Mr. Ducasse prior to Mix, but I always appreciated his approach to cuisine. I was very curious about what he was doing. It's very quality produce driven, very simple. Go direct to the flavor. There aren't six or seven flavors on the plate. It's very sharp. I have a similar approach." Ducasse agreed, and Davaillon was hired as Executive Chef at Mix. Davaillon moved to Vegas in April 2004 and the restaurant opened on the 64th floor of THEhotel by the end of the year.
According to Davaillon, "You can find classic dishes from Paris and Monte Carlo, but you can also find eclectic items, world cuisine." At Mix, the food is important, but they're offering a "great package," including a unique location and "feeling."
To stay seasonal, Mix changes the menu every three months. Despite being located in the desert, the restaurant is able to get every ingredient they want, eased by Ducasse's reputation in the industry.
Mr. Ducasse has final say on every aspect of what happens at the restaurant, food and otherwise. Every two months, he visits Mix to taste new dishes that Davaillon has developed. Once he signs off on a dish, it's promoted to the menu.
As with savory items, when it comes to desserts and wine, Mix reports to a corporate pastry chef and wine director at Groupe Alain Ducasse in Paris. Davaillon stressed that it's a collaborative relationship, not contentious in the least. "We still have freedom. They just want to know where we stand. They don't force us. We work together. It's a good team."
Chef Davaillon is excited to be a part of the recent influx of culinary talent to the Las Vegas dining scene. "In the past five to six years, everybody's coming here. It's a competitive environment. It reminds me of New York or San Francisco."
Davaillon has traveled thousands of miles from the French farmland of his youth, and he's absorbed mountains of culinary knowledge since he first cooked in his Great Aunt's kitchen, but in many ways, his approach is quite similar at Mix. As always, his goal is to deliver market-fresh ingredients, simply prepared and stylishly presented.
---