Kai-Wa Yau
Executive Chef
---
---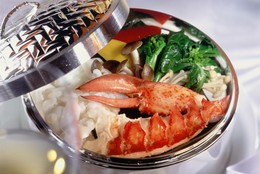 The beating heart of every successful restaurant operation isn't the swirling, dazzling designs of the linens or the swanky, handsome dress of the staff; it is indeed the chef. Amidst the hot sands of the Las Vegas desert is a sizzling restaurant subculture as alluring and energy-infused as the city's trendsetting nightlife scene. Here, high profile chefs and restaurateurs share marquee bragging rights and serve cuisine that's every bit as artistic to visually experience as it is to consume. At Vegas' MGM Grand resort, Executive Chef Kai-Wa Yau has been serving such delectable, palate-stimulating Cantonese/Shanghai dishes at the highly distinguished Pearl restaurant since the trendy dining spot opened in 2001.
Hailing originally from the beautiful Orient region of Hong Kong, Chef Kai-Wa Yau's culinary history dates back to when he was only 16 years old, where he served as a part time member of the kitchen staff for his family's restaurant. As will happen with any sincere passion, his love for cooking and being in the kitchen grew – as did his talents in the culinary arts – leading to him working for recognized restaurants including Hong Kong Holiday Inn Harbor Village, San Francisco Harbor Village, and New Kin Hing in Los Angeles. In 1988, the ever growing city of Las Vegas saw an explosion in raising the bar for quality dining, and Yau was one of the "first wave chefs" to arrive in Vegas and contribute to this explosion.
Yau's Las Vegas deluge into the restaurant circuit began when he was responsible for training a staff for a new Chinese restaurant in town, Empress Court. The eatery was subsequently named one of the "10 Best Chinese Restaurants in the United States" by USA Today, and by December 1993, Yau became Chef de Cuisine at Dragon Court, at the MGM Grand resort. His proficient culinary talents are now exhibited and fully realized as Executive Chef for Pearl, MGM Grand's most distinguished restaurant to date. Yau has been with Pearl since the restaurant's opening on December 17, 2001, and, along with Pearl's professional staff, serves up authentic Cantonese/Shanghai dishes – with a contemporary presentation – amidst an atmosphere bursting with sophistication, elegance and exclusivity.
Chef Yau resides in Las Vegas with his family, consisting of his wife, son and daughter. When speaking about his culinary passions and the sparks that influenced him early on, he quickly refers to his deeply inherent proclivity for food and cooking even from a young age. Additionally, he credits some inspiration from his own brother, who also shared the passion for culinary art. At Pearl, Yau prepares a menu that fluctuates based on seasonal offerings, but he particularly enjoys making the traditional Asian cuisine for the restaurant's high end clientele that frequents Pearl and the MGM resort. Further, while his in-kitchen abilities run the gamut from wildly different cuts of beef, poultry and vegetarian elements, Yau hones his keen abilities most intensely on seafood creations. A self-described enthusiast of cooking and preparing seafood delicacies, Yau does not discriminate when it comes to the different types of marine life available for consumption, nor in the way they are prepared for that consumption. Case in point: the gigantic holding tanks situated near Pearl restaurant's kitchen area that contain live variations of fish and, most fascinating, ridiculously oversized 10-pound Australian lobsters.
Irrespective of Yau's magnetic draw to seafood-oriented cuisine, he creates a plethora of signature dishes for Pearl that are every bit as magical and palate-intensive; these include Crispy Garlic Chicken, Spider Prawn Dumplings, a rather fiery twist on Mongolian Beef, Peking Duck carved tableside and served in thin crepes with a special dipping sauce, "Stir Fries," Beef with Bamboo and Black Mushrooms, and Almond Chicken in lemon sauce.
When it comes to braising, steaming, and frying any and all varieties of seafood, Chef Kai-Wa Yau does it all.
---