Stephane Chevet
Executive Chef
---
---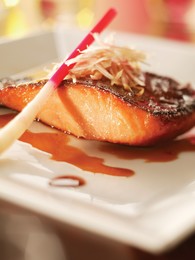 The cuisine of Executive Chef Stephane Chevet is greatly inspired by his global education, career, and travels. He has worked his way through Europe, Asia, and the Americas, learning new culinary perspectives along the way. He brings this international point of view to Shibuya at the MGM Grand, infusing its Japanese cuisine with the innovative flavors and techniques he has garnered from the various "travels and trends" he has experienced and encountered over the years.
It was during his upbringing in the south of France, and his frequent visits to his grandparents' farm, that Chef Chevet first developed an interest in cooking. At age 16 he began his professional culinary training, enrolling at Tain L'Hermitage Cooking School and, upon receiving his degree, embarked on a series of apprenticeships at a variety of Michelin star award winning European restaurants including: L'Oustau de Baumaniere, L'Antare, and Le Metropole. After completing his apprenticeships, Chef Chevet traveled throughout Europe, Asia, and Central America, learning new cooking techniques and exposing himself to diverse culinary traditions along the way. In Los Cabos, Mexico, he became the executive sous chef at the acclaimed luxury resort, Las Ventanas al Paraiso, experimenting with a new fusion cuisine of his own invention titled "Mexiterranean" cuisine. From there he traveled to Belize and worked as a consultant chef at Cayo Espanto, another renowned luxury resort. His culinary travels culminated when he took the position of executive chef at Koi in Los Angeles, where he honed his Asian cooking skills and fell in love with Japanese cuisine. A year later he was invited to open Shibuya as executive chef, and has been infusing the restaurant's menu with his innovative global perspective ever since.
Although it may at first glance appear to be a peculiar transition to go from a formal French culinary education to crafting traditional Japanese dishes, it is a testament to Chef Chevet's astuteness and vision that he finds the commonalities between these disparate traditions and combines them in shrewd and impressive ways. He finds Japanese cooking to be "very close to the French cooking philosophy: you search for the best quality ingredient to fit a specific recipe and then respect it by enhancing that quality through other flavors. As a chef, it is the variety of ingredients and unique cooking or 'non-cooking' approaches and techniques reflecting years of history and culture that appeals to me." It is little surprise that Chef Chevet cites celebrated chef Joel Robuchon, a fellow French chef inspired by Japanese cuisine, as one of his inspirations: "his philosophy about food is very close to the Japanese one: no more than 3 flavors." His Shibuya menu reflects this blending of cultural traditions and personal innovation, pairing traditional Japanese dining like Teppanyaki-style cooking and Omakase eight course tastings with European-style luxury ingredients like caviar and truffles. Each dish offers a glimpse into the traditional flavors of Japanese cuisine while at the same time reconfiguring them in bold and innovative ways for a truly memorable experience.
It is this memorability, this attempt at making the Shibuya experience "an experience [to] remember," that Chef Chevet strives to achieve when he steps into the kitchen. It is the "guests and their preferences that pushed [him] to create a balanced menu where everyone can find dishes they want to try or have again." Above all else, he recognizes that restaurant work means working in the customer service industry, and that while "we are chefs with our [own] likes and dislikes…at the end of the day we are here to please." At the same time, he never fully compromises his own culinary vision, but instead finds means of achieving equilibrium between his preferences and those of the customer so that everyone can be pleased with the end result. Time and again Chef Chevet succeeds in this delicate and delicious balancing act, making Shibuya a destination for all those seeking traditional, innovative, and appealing Japanese cuisine.
---