Benjamin Jenkins
Executive Chef
---
---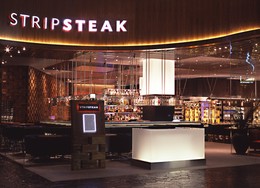 Chef Benjamin Jenkins's cuisine is deeply influenced by his family upbringing. Growing up in Chapel Hill, North Carolina, the culinary traditions of the South were deeply ingrained in him from an early age. As early as he can remember Chef Jenkins was "getting up on the counter with my mother and learning" how to cook. He brings this sense of familial warmth and comfort to the STRIPSTEAK kitchen as executive chef, infusing all of his dishes with a loving care that makes for a homey and deeply satisfying dining experience.
After graduating from high school and leaving his mother's kitchen, Chef Jenkins pursued a professional culinary education at the New England Culinary Institute in Vermont. After graduation, he worked in a variety of kitchens in Florida, before joining the staff of Aqua in San Francisco. Proving himself in San Francisco, he was then asked to move to Las Vegas to help open Aqua as sous chef at the Bellagio. Chef Jenkins's career with the Mina Group began with Nobhill, now Nobhill Tavern, and continued at SEABLUE, where he distinguished himself as executive chef. When the Mina Group decided to open its first steakhouse two and a half years ago, Chef Jenkins was a natural choice to head the culinary team. He has been at Stripsteak ever since.
Despite his meteoric rise, Chef Jenkins still holds true to the culinary ideals he learned in his mother's kitchen in North Carolina: "I like to do things the way I like to eat. What I want [to capture] is the feeling I get from sitting down with a bunch of friends to eat." His menu at STRIPSTEAK favors simple, straightforward presentations and flavors, albeit with the highest quality ingredients and certain gourmet touches. The Beet Salad, for example, is one of Chef Jenkins's favorite dishes on the menu simply because "it is what it is."
This sense of home extends to all aspects of the restaurant, including the staff. Aside from reveling in the "controlled chaos" of the kitchen, Chef Jenkins most appreciates the "family-ness in the front and back of the restaurant, how we all work together." It is this synergy, this sense of community that permeates STRIPSTEAK, and manages to make this chic and sophisticated restaurant feel so approachably personal. This is Chef Jenkins' primary goal: to not only provide his diners with an "amazing experience" but one that is comfortable and "fun…a fun, loud room, family style…what more could you ask for?" When this welcomingly accessible atmosphere is paired with the quality and culinary savoir-faire that is distinctive of the Mina Group hallmark and so eloquently mastered by Chef Jenkins, diners to STRIPSTEAK will indeed be hard-pressed to find anything more they could ask for.
---