Jose Aleman
Chef de Cuisine
---
---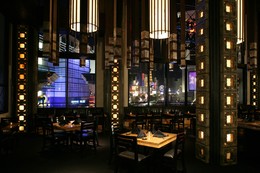 Born in Mexico but raised in Chicago, Jose Aleman developed his love of cooking when he took his first job as a dishwasher as a young teen. His self-tutelage took him through the masters, as he studied the work of esteemed chefs such as Thomas Keller, John Joho, and Marco Pierre.
Chef Jose's career has taken him through some of the most highly respected restaurants in the country. Beginning as a dishwasher, Chef Aleman climbed through the ranks of The Everest Room. Working station by station, he mastered fish, meat, and garde manger. By 1998 he was assisting the executive chef with catering functions. In 1999 Chef Aleman left The Everest Room to move onto Tru where he was able to continue to his work with meat and fish.
Later that year, Chef Aleman recognized a lifelong dream when he relocated to Las Vegas and began working for one of his idols, John Joho, at the famed Eiffel Tower restaurant at Paris. Beginning as a master cook, he grew to assume the role of kitchen manager and sous chef before being lured away to Simon Kitchen. It was here that Chef Aleman was able to really explore his creativity and experiment with different flavors and textures while also honing his skill at the operational aspects of running a kitchen from a business stand point.
In 2004 The Innovative Dining Group was proud to bring Chef Jose Aleman into the family. In a brief time his skill, passion, and dedication to creative cuisine propelled him from sous chef to executive chef, and, ultimately, to corporate executive chef overseeing both Sushi Roku and BOA Steakhouse, Las Vegas.
"Being able to take an idea or a desire and translate that into a dish is one of the most rewarding aspects of my job," says Chef Aleman. "I am honored and proud to have worked among the best in the business, and I pride myself on taking what they have taught me and turning it into something new and exciting every time I cook."
---