Kiko Ojeda
Executive Chef
---
---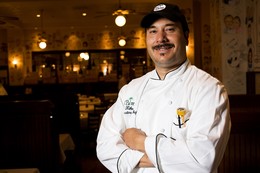 The concept of loyalty takes on a whole new meaning for Executive Chef Kiko Ojeda, who has been preparing and serving The Palm Las Vegas' delectable menu items for 13 years. And although he has called the Las Vegas Palm location home for these 13 years, he has actually been with the company for 27.
Originally from Mexico, Ojeda was made part of The Palm family when he was only 15 years old, running the professional gamut from dishwasher all the way up to Executive Chef under the owners' supervision. After initially spending some time at a Los Angeles-based Palm, Ojeda came to the Caesars Palace Forum Shops Palm location where he has perfected the Veal Martini dish, amongst many others.
"The Veal Martini I am especially proud of," says Ojeda. "The secret to this wonderful dish is the Veal Demiglace, which I consider the 'basis of its success.' Further, my personal favorite cut of beef that I always recommend in terms of 'flavor at its best' is the New York strip steak; I serve this at The Palm and wholeheartedly stand behind it."
Ojeda's own family consists of his wife and four children, and he hopes to pass his heartfelt passion for cooking on to the young members of his clan. When asked about his future with The Palm or another dining establishment, Ojeda is clear: "There is no job offer out there that would ever make me leave the Palm family. I get offers regularly, and I tell them not to waste their time because I'm not going anywhere. This is a great organization."
That's loyalty in a nutshell.
---