Suzay Cha
Executive Chef
---
---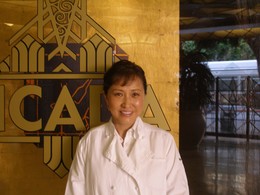 Suzay Cha's culinary curiosity has led her to Tuscany, Beijing, and Paris. Now she's ensconced in downtown L.A. at Cicada, in the kitchen of a palatial Art Deco restaurant that combines northern Italian fine dining with her brand of Asian accents.
Cha grew up in Tokyo, which was paradise for a young food lover. I find Japanese people are the most sophisticated people as far as food culture is concerned, she says. If you go to Japan - Tokyo and other large cities - you have the best of everything...Just being there, seeing all the detail that goes into dishes, you learn a lot.
It helped Cha's gastro-development that her mother is a skilled cook. Cha said, She cooks with much love for her children and her guests, says Cha. She's very meticulous. When you put a little effort, it makes a big difference. Growing up, she'd help her mother to clean lettuce and help around the kitchen, but she wouldn't cook. Instead, she'd try to watch how [Mom] did things. The first dish she ever attempted to make was spaghetti, when she was 11 years old.
Cha misses her mother's kimchi soup and garlic chive pancakes. As a result, Cha has a backyard garden at her Orange County home, where she grows fruits, vegetables, and garlic chives.
Cha was designing jewelry for a living when she took a trip to Paris that ended up changing her life. I met a girl from America that was a chef,says Cha. She was doing an externship in a French restaurant. The meeting motivated Cha to consider cooking for a living. Cha had never worked in a restaurant, but in 1997, she opened a restaurant in the Orange County town of Tustin called Mondu Suzay, specializing in Korean dumplings (mandoo) and a variety of salads. She included macriobiotic vegetarian dishes, avoided dairy and made all her flavored vinegars and sauces from scratch.
When I did the restaurant, everybody thought I was crazy,says Cha. I really thought god blessed me, because there were write-ups from the LA Times, Orange County Register, Orange Coast magazine...One day I sold all my food at 7 p.m. Food writers really liked the fact that I was audacious and brave. Another reason Cha thought her restaurant succeeded was her initial motivation. I opened a mandoo restaurant with heart, not to make money, says Cha. I don't think about doing this to make a living. I'm going to do this so I have fun, and then I have fun and work, then you make money.
Cha sold Mondu Suzay in 1999. She never had any formal training, so she enrolled at Laguna Culinary Arts, in Laguna Beach, completing their intensive six-month professional chef program.
Culinary students typically complete externships in restaurants as part of their final training. Cha knew a chef at La Locanda del Templare in Tuscany and arranged to work for him. I consider myself adventuresome," she says. I contact restaurants and they say okay. I was in [Beijing] recently and did the same thing.
Cha prefers traveling abroad to learn about food. When you go to any country, any place, you meet people, breathe their air, eat what they eat," she says. "If you dive into that environment, you learn something."
Near the conclusion of culinary school, a former customer from Mondu Suzay was friends with the owner of Cicada, and recommended her for the Executive Chef position. Cha got the job, then finished culinary school and worked in Tuscany before returning to Southern California to work at Cicada full-time.
Cha considers cooking just as artistic as jewelry making, saying, "Cooking is complete artwork. If you do it beautifully, it's visual art, you can taste it and you can bite into it, you can hear it too. It satisfies your five senses."
Cha cites Julia Child and Alice Waters as inspiration. "[Child] started at such a late age, and the mark she made was tremendous,says Cha, proving,If you like something, it's never too late to do something you like to do...Nothing's forever, so you should be brave to try something that you really like to do. If you fail, it's okay, because 100 years from now, no one's going to remember. Cha respects Waters because, She's very passionate.
She also admires skilled home chefs. Sometimes the greatest chefs are hidden in their home kitchen. Nobody knows, but they can give you the best tips...I've had great experiences with people who invited me to their home. It could be something very simple, pot roast. Even just a fruit salad. It's how you cut it.It's your effort that makes all the difference.
Away from Cicada, Cha appreciates simple dishes. If you make a tuna sandwich for me, I love it...People are very busy, so they don't have a lot of time to cook, but if you have a little candlelight, and nice music, that becomes something special.
At Cicada, Cha changes the menu twice a year, drawing from California's bounty. "You can have anything, says Cha. That's a major advantage of being in California. This summer, Cha is excited about her crab salad with grapefruit and lemon vinaigrette. It has a hint of celery for crunch. It has so much of a summer feel.
Cha will soon begin contemplating her fall options. Considering she is such a student of world cuisines, there's no telling what the next menu has in store.
---