Paramjit and Lakhvir Singh
Chef
---
---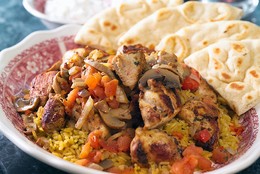 Brothers. Owners. Chefs. These are the titles Lakhvir "Lucky" Singh and Paramjit "Pamma" Singh of Electric Karma share. The two brothers grew up in a large, close-knit family in the small village of Jullendur, India, which is in the northwestern state of Punjab. Their father was a farmer on an expansive, 45-acre farm and their mother was a cook who utilized all the fresh ingredients from the farm in her everyday cooking. An abundance of fruits and vegetables were grown on the family farm, including many staples in the Indian diet such as cauliflower, carrots, tomatoes, onions, eggplants, cucumbers, honeydew melons, and mangoes. Growing up on the farm is where the journey of becoming chef/owners of Electric Karma began for Lucky and Pamma.
In 1992, the brothers left the small village of Jullendur and took all their experience with cooking traditional Indian cuisine to California. Along with another family member, they opened a casual Indian restaurant in Pasadena called All India Café, which is now successfully operating in two locations. Building on this success, Pamma and Lucky combined their cooking and restaurant experience to open a more upscale venture in West Hollywood. And so Electric Karma opened in 2004.
At first, the two brothers worked exclusively in the kitchen at Electric Karma to perfect their recipes. The mission then, and now, was to bring complete authenticity to everything on the menu including all the ingredients and preparations their mother showed them. Lucky believes that this authenticity is what keeps his customers coming back. For the first year and half of operation, the two brothers alone handled all the cooking duties, leaving the front of the house responsibilities to a trusted manager. Now that the restaurant has hit its stride, Pamma oversees the kitchen along with a few talented cooks, and Lucky focuses his attention on the front of the house.
Pamma says that he "never gets tired of cooking" and is always looking to use new ingredients. Today, he is still inspired by fresh vegetables. Pamma also loves to make what he calls "very flavorful food," incorporating all the traditional Indian spices into his dishes. Among Pamma's favorite spices to use are green and black cardamom, cloves, and cinnamon.
When Pamma and Lucky first opened Electric Karma, Pamma says that he would always call his mother to ask her advice on how to prepare dishes. He says this with a tone of reverence toward her. Of all the recipes handed down by his mother, the chicken tiki masala is the most cherished. Pamma and Lucky grew up eating this classic dish and they are proud to serve it to all their customers at Electric Karma.
When asked what unique style he brings to his food, Pamma answers sincerely and without pretension that he "cooks from the heart." He says cooking is truly what he loves doing and that he "never gets sick of it." His enduring passion is obvious when you taste the food at Electric Karma.
---