Scott Swiderski
Executive Chef
---
---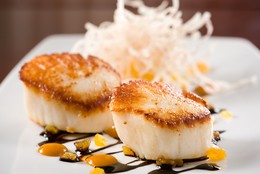 Perpetual motion: That's a fitting description of Buddakan Chef Scott Swiderski's approach to his métier. When he's not patrolling Buddakan's kitchen to make sure no dish exits sub-optimized or tweaking a dish for the umpteenth time, he's zipping off to DC or NYC to garner inspiration. "I'm never off," the personable Chef concedes. "I have passion for this profession and passion for this restaurant."
His passion for Buddakan is obvious. He's as solid a fixture in this posh eatery as the iconic 10-foot-high gilded statue of Buddha that infuses an engaging combination of serenity and exoticism to the commodious dining room. Actually, Chef Swiderski and the Buddha boast equal tenure. Philly restaurant-maven Stephen Starr appropriated Chef Swiderski from the latter's Miami digs at China Grill in 1998. Chef Swiderski has been THE man in Buddakan's kitchen ever since. His longevity is all the more impressive because of Buddakan's reputation as chic and trendy–a niche that often proves fickle and unforgiving in the culinary arts. "Trendy," by nature, stays in perpetual motion. But then, perpetual motion is what Chef Swiderski is all about. "We never stop trying to improve a dish," he asserts. "That gives us the edge, keeps us fresh. Staleness never seeps in."
Chef Swiderski deftly navigates the treacherous straits between the appetites of foodies and the more traditional tastes of those who simply bask in the eatery's singular ambiance. For the fortunate multitudes who seek both adventurous food and memorable digs, Buddakan is nirvana. As validation: in virtually every poll, Buddakan perennially ranks among the city's top ten restaurants.
Visitors become regulars here because of Chef Swiderski's propensity to evolve dishes. Continuous improvement is a hallmark. As Executive Chef, he's not just leader and mentor; he's a good listener, receptive to the ideas and techniques his staff brings to the table. "Because Buddakan is so prestigious, chefs want to work here," he explains. "I have the fortune of choosing from a field of talented chefs who introduce a never-ending stream of fresh ideas and approaches."
Thus, although some dishes never leave the menu, even signature dishes undergo tweaks and recalibrations that spiral them subtly yet sublimely up the excellence ladder. The wildly popular Edamame Ravioli is an example. This dish has wowed diners since the restaurant's debut.
"Years ago, I went to a 'Book and the Cook' presentation by Ming tsai," Chef Swiderski recalls. "Ming's dish–some sort of edamame purée with foie gras and chicken mousse–was my inspiration. I decided to put an edamame purée dish on our menu. Then, as I always do, I kept experimenting with it. In different iterations, I added truffles, truffle oil and cream and butter in varying amounts. I think everyone who has joined the kitchen staff over the years has added a wrinkle or an ingredient that has improved it in some subtle way. We've also tweaked the broth giving it more and more lightness. Counterbalancing those tweaks, I've had the same two dumpling-makers for 11 years. Their technique and style adds an element of consistency. With this city's strong Italian tradition, you can't get away with sub-par pasta."
Don't let the Swiderski surname throw you. The Johnson & Wales grad reports: "My mom was Italian. That's my tradition. Despite all the fusion and Asian influences on my menu, my roots are real Italian–not red-gravy Italian –but in the authentic tradition of the old country. Ultra-fresh ingredients, lightness in preparation and presentation–they're my filters and measuring rods, no matter what the dish. Take a predominantly Asian dish like Tea-Smoked Spareribs with Hoisin BBQ or Buddakan-style Sashimi with citrus soy and sizzling oil. The Italian taste essential still rules: we let each ingredient sing out without marring or masking. Even with the delicious BBQ sauce and citrus soy accompaniments, the meatiness of the spare ribs and fish still shines through."
"The other manifestation of my Italian heritage is my philosophy that dining is multi-dimensional. The surroundings, the lighting and the service are essentials, not mere afterthoughts or niceties or take-it-or-leave-it add-ons. I'm in lock step with Stephen Starr in that belief. Obviously, Buddakan's atmosphere and trappings are super. Our servers are as fine a corps as there is. They're foodies who know the menu inside out. No one goes on the dining room floor without passing an oral test that I give. We serve a sophisticated clientele with experienced palates and our servers need to be at that level. That's non-negotiable."
A perpetual quest for perfection; an ongoing dialogue with a stellar kitchen staff; and an uncompromising stance on an integrated dining experience are the perpetual notions that keep Buddakan at the top of the heap and Buddakan's talented Chef Swiderski in perpetual motion.
---