Anthony Goodwin
Executive Chef
---
---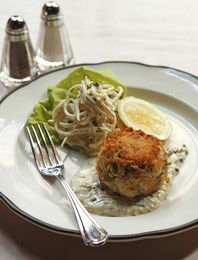 Imagine a place, located in the heart of Philadelphia's Center City, where high glamour and hearty fare are par for the course. This dream is a reality at Butcher and Singer, a steakhouse for true connoisseurs of high style coupled with substance. In the short time since Stephen Starr created the 1940's inspired restaurant, local foodies have flocked to the luxurious space for top quality steaks in an inspiring setting. This success is in large part due to the skill and dedication of Butcher and Singer's Executive Chef Rob Dacko who has been attracting food lovers from around the region.
For this culinary standout, career day was a no-brainer, Chef Dacko recalls, "I knew I wanted to be a chef pretty early on when I started working in my first restaurant just out of high school." The chef has been honing his craft ever since with heavy praise following him virtually everywhere he has sharpened his knives. Not surprisingly, one of the chef's most formative experiences occurred within the confines of the kitchen. Dacko reminisces, "I was really shaped by my time right out of culinary school. I was going to work at a small restaurant and thought I could do just about anything. Of course, I got beat down a bit and then later built up by chefs who really knew what they were doing."
During his time at Butcher and Singer, the chef has come into his own. He is immersed in classic American steakhouse fare, a cuisine that others might find limiting. Dacko, however, finds inspiration in places where less resourceful culinary wunderkinds have failed: "Introducing people to new products and trying to find the best of what's available really drives me to keep innovating." Steakhouse culture is not without its challenges however, as the chef points out that one of his missions includes "trying to convince people to order something other than a filet mignon."
As the chef at one of Starr's flagship hot spots, Dacko is adept at doing more than simply slinging steaks for the scores of hungry diners that come through the doors every night. He aims to create a new dining experience for every patron; one that makes customers "feel they're in an episode of Mad Men." This would be a tall order for most chefs, but the experienced Dacko tackles the challenge with aplomb.
Family is also a main ingredient in this busy chef's life. Recently married, Dacko chose his two grandmothers as the dinner guests he'd most like to cook for given the opportunity. With one glimpse at the restaurant's gargantuan dining room, it's clear from the hordes of families gathered around tables, that bringing people together over delicious meals is a uniquely Dacko trait.
Butcher and Singer specializes in finely prepared steaks, as well as unique menu options that keep the talented chef on his toes. The Stuffed Hash Browns is one dish that has brought rave reviews and many happy returns among Philadelphia's dining scene. The dish comes as a mid-meal revelation that employs sour cream, shredded potatoes and expert culinary skills. The restaurant succeeds in leaving an impression with these Stuffed Hash Browns which were created when the chef "wanted something everyone would 'have to get' when they came to Butcher and Singer."
As a fixture on the Starr roster, Chef Dacko has been studying the local culinary scene and anticipates a sea of change in the community as the economy slowly recovers. With more diners venturing out for evenings out on the town, "Philadelphia's food scene is heading toward a more casual atmosphere," predicts the chef. "I think we'll also see less expensive, approachable food gain momentum as time passes." While the future of Philadelphia's restaurant scene is constantly evolving, the mood at Butcher and Singer is happily ensconced in the era of 1950's refinement and quality, which is not to say that Dacko can't appreciate some comfort food every now and then. With chicken cutlets and pierogies at the top of his list, the chef continues to impress diners and critics alike with his heavenly steakhouse cuisine in a setting that would make Dean Martin proud.
---