Olivier Desaintmartin
Chef
---
---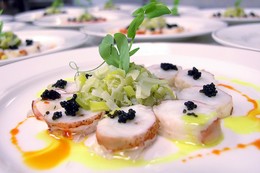 Chef Olivier Desaintmartin is on patrol … The sight of the handsome perambulating patron of the Caribou café Café popping into the dining room to chitchat pumps up the pulse in this vivacious establishment that's delightfully reminiscent of France. Olivier has the moxy and instinct to confront the complex bevy of tasks besetting the modern restaurateur. He boils everything down to two musts: "Bonne bouffe – good, reasonably priced 'eats' – and a pleasing, relaxing atmosphere."Voilà! Ça sent bon la France! Or as we Americans put it, "Now ain't that France!"
In la France of Olivier's reality, dining is not the stylized stuff of American parody. The French themselves do not frequent stiffly priced, white-tablecloth, crystal-chandelier palaces populated by huffy sommeliers and haughty waiters. The true French café is not packaged or plagued by condescending attitudes and intolerance. The French wouldn't stand for that on a daily basis! The true French café, bistro or brasserie is down to earth. A seductive sense of the festive permeates the ether.
"That's what I bring to Philadelphia," Olivier confesses. "I want my guests to step out of the streets of Philadelphia and into a piece of the real France – with the kind of food 'real people' in France eat daily."
That's just what he's done. Olivier has corralled those intangibles at Caribou Café. The spirit, the joie de vivre is palpable here. "In France, we don't have cafés for 'slices' of society or for certain groups. Professionals don't frequent one café, blue-collar people another, and bikers another. A good café welcomes everyone. It appeals to everyone. Everyone feels at home there. That's the true nature, the secret to the success of the French café. We attract a diverse group of diners that includes regulars, neighborhood residents, visitors to the city, the pre-theater set, the happy hour crowd, and drop-ins."
By design, Olivier's eatery exhales exhilaration and authenticity. He puts his waitstaff through stringent training. Each member is cheery, attentive and well versed in his or her métier. And each is loyal. Virtually all have been with him since he opened. As for the beating heart of the café – the food – well, this is bonne bouffe at its finest.
"Bonne bouffe – you could translate as 'good eats,'" Olivier explains. "I'm classically trained. I graduated from the Hotel School of Paris, then worked for Gaston Lenotre [the French chef renowned for his sublime pastries]. I was at Pré Catalan [famous Parisian restaurant in the bois de Boulogne]. I worked for Paul Bocuse and Michel Gerard [two principles in creating nouvelle cuisine] before coming to America because Gilbert LeCoze asked me to open Le Bernardin in NYC. My background is upscale cuisine. But my roots, are in the everyday food of France, the regional food. And that's what I add to Philadelphia's table."
Olivier lights up about cooking philosophy. "I come from Champagne, which is sandwiched between Paris and Lorraine, two very different culinary regions. Lorraine's cuisine and Alsace's as well is highly influenced by Germany. You find lots of choucroute and hearty dishes in those regions. That cuisine spills over into Champagne and that dynamic exists all over France. There is no single French cuisine. There are multiple cuisines. That's my focus: Regional food from all over France."
Thus those who fancy Provençal cooking find delices like Jarret d'Agneau – a less familiar take on lamb. Instead of the exquisite Dijon-encrusted recipe so long replicated on our shores, Olivier taps into the trove of the Provincial pantry. Olives, the Provençal staple, cap the lamb crowning couscous that's sluiced with earthy olive au jus. "Tatin Provençal highlights some defining Provençal flavors: fennel, artichokes, and tomatoes topped with olive tapenade," Olivier offers. "The cuisine is based on farm-to-table, and that's how we dot it here."
Moules Farcies, mussels broiled in garlicky butter and sided with straw pomme frites, pays homage to Belgian, mussel-centric cuisine in northern France. Paté Maison accompanied with cornichons and soulful celery root remoulade, gives a tasty nod to the rustic cooking tradition of Normandie, while Oeuf Meurette, eggs with a burgundy wine sauce, bolstered with mushrooms and onions, hearkens to Burgundy.
"One dish that distinguishes us is skate," Olivier confides. "I was surprised that in this country, skate is a fish not many chefs are interested in working with. In France, it was the opposite. We considered it special. So we offer a few skate dishes that are unusual on American menus."
Olivier's menu approach adds another dimension to the dining experience, serving as a mini-travelogue of the regional tastes of France. His servers will be happy to enlighten you about the origins and ins and outs of the various dishes. Or you may prefer to wait for Olivier to wander by. As Philly foodies know, he's the man.
---