Geno Sena
Executive Chef
---
---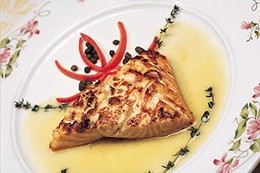 Gino Sena is the head chef and owner of La Famiglia restaurant in Old City, Philadelphia. Following in the footsteps of his retired father, Carlo "Papa" Sena, Gino Sena has vowed to carry out the family tradition of fine Italian cooking. When handing down his beloved kitchen to his eldest son, Papa Sena made sure to pass on his culinary wisdom. Gino's younger brother Giuseppe handles the front of the house, while his sister serves as the office manager, leaving Gino to devote all his attention and focus to the kitchen and the creation and execution of his menu. Classic techniques combined with innovative ideas keeps Gino's menu classic, but also fresh and exciting.
The Sena family is originally from Naples, or Napoli as it is referred to in Italian. Many of the recipes Gino uses today have been in the family for generations and hail from his native country. Technique is also very important to Gino. He believes very much in the techniques used in his native region of Naples, and also the techniques that were used by his father, as well as by the Sena family generations before that.
Gino looks to oppose the increasingly prominent practices of fast food, over-consumption, and quantity in replacement of quality. Gino believes in taking time to cook a quality meal, and thinks that a good meal is well worth the wait. Gino believes very much in fresh local ingredients and will not settle for anything less. His techniques and philosophy in the kitchen stem from those of Old World Italy, which continue in Italy to this day.
Gino's menu is based on a palette of classic dishes from Italy and ones he has learned from his father. With this in mind, he assesses the ingredients; the meat, poultry, fish, produce, and pastas that are available, finding the freshest supplies possible. Then, depending on what is in season and what is new and fresh, Gino creates his menu and works each and every night to create his vision.
On a constant quest for new ingredients, Gino travels back home to Italy at least once a year to reinforce his Italian roots and search for newly inspired dishes. Italy is a huge inspiration for Gino and spending time there, eating and studying with other chefs, revitalizes him for the kitchen at La Familglia. Using old favorites and making modern refinements, complimented by the authentic Sena family touch, Gino's creations make up La Famiglia's purely distinctive menu.
Passed down from one generation to another, La Famiglia, means "the family." The Sena family's love for fine foods and wines culminates in Geno's sophisticated and well-thought-out menu. Gino and his family take great pride in changing the menu every season to ensure freshness and quality. In addition to the menu, which Gino alters depending on what is in season and what is fresh and available at moment, Gino insists on changing the restaurant's specials daily, in order to offer the most variety possible. Gino is big on family, and takes pride in having regulars who he can continue to wow with his changing menu.
La Famiglia's wine list is very important to Gino as well, as the wine directly compliments the cuisine. Although his brother, Giuseppe, along with La Famiglia's sommelier maintain the wine list, Gino is very much involved. He makes sure that there is a wine to match every dish, sometimes even more than one wine. With a selection of over 450 bottles, it is clear that Geno and Guiseppe have accomplished this task. With an unmatched wine list, and the excellence of the Sena family kitchen lead by Gino with genuine care, La Famiglia has earned the reputation of the most exclusive Italian restaurants in all of Philadelphia.
There are many Italian chefs in Philadelphia and even more Italian restaurants. What sets Gino apart in this industry is his insistence on quality as the number one factor in a restaurant. Also, Gino treats every dish that comes out of the kitchen as if it is the only one. The dishes he creates combine Old World Italy with New World innovation. He has taken many Italian staples and classics from Naples and from his family and refined them to make them as elegant and sophisticated as the setting they are served in.
---