Greg LaPrad
Executive Chef
---
---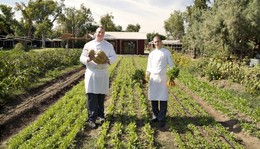 Quiessence Executive Chef Greg LaPrad initially moved to Arizona to work at Michael's at the Citadel in 2004. Though he isn't a native Phoenician, LaPrad demonstrates a superior understanding of local Arizona foods: what is good, where to find it, and how to show it off. LaPrad lets the bounty of Arizona lead his culinary creativity in menus that feature the finest and freshest ingredients available. He has developed personal relationships with farmers, ranchers, and gourmet food artisans around the state. Along with the constant stream of tasty organic produce from Maya's at the Farm, LaPrad lets the quality and availability of domestic ingredients inform his offerings. The result is an ever-changing, seasonal menu.
Previously, LaPrad spent some time in Tuscany cooking at Il Bottaccio. His experiences in Italy have impacted his culinary aesthetic. Italian cookery is largely a celebration of local flavors and top-quality seasonal ingredients, using straightforward preparations to reveal the natural essence of mostly unembellished foods. While LaPrad's recipes represent an upscale version of classic American farm fare, the elegant simplicity of his dish composition and his unwavering dedication to the freshest local ingredients are reflective of Italian culinary values. Furthermore, the inclusion of a few distinctly Italian accents in his menus revitalizes American Farmhouse cuisine with a new global sensibility.
Chef Greg LaPrad is also a steadfast devotee of "Slow Food," a movement that began in Italy. Slow Food resists the modern progression of cuisine toward a monocultured, nutritionally bankrupt world of fast food. By placing emphasis on cultural identity and local eating, Slow Food chefs strive to preserve the uniqueness of domestic flavors and indigenous ingredients. The movement is largely a reaction to the global domination of international fast food chains, but it also emphasizes ethical buying in the marketplace. In addition to his obvious devotion to local eating, Chef LaPrad seeks out humane and environmentally conscious suppliers of first-rate food throughout America and is a member of the Seafood Choices Alliance.
LaPrad was chef at Quiessence for two-and-a-half years before purchasing the restaurant and wine bar in September 2008 from Santa Barbara Catering, along with the Morning Glory Café (a casual restaurant also located at the Farm). Originally called "Quiessence Culinary Center," the restaurant was founded by noted chef and cooking teacher Hallie Harron. Much has changed since the times when Harron taught her classes at the Farm and served her French-inflected, daily prix-fixe meals with a vegetarian emphasis. Nevertheless, both LaPrad and Harron are celebrated chefs that share a deep passion for Slow Food. Chef LaPrad's present ownership ensures that Quiessence will remain dedicated to its everlasting ideals of local and seasonal eating, grounded in good ethics.
---