Kim Martin
Chef de Cuisine
---
---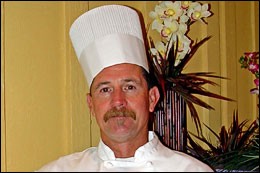 Chef Martin possesses an eclectic portfolio in the world of professional food preparation. After being formally trained at a prestigious Hyde Park culinary institute, he worked for several years in exclusive kitchens from Manhattan to upstate New York, as well as on the resort circuit between the Catskill Mountains and southern Florida.

Originally a San Diegan, he eventually returned to our area to further develop his career. Shortly thereafter, Chef Martin opened a restaurant across the bay from the downtown business district, only a block from the beach and close to the world renowned Hotel Del Coronado.

Named Chez Loma, this intimate bistro quickly became recognized as one of the best French restaurants in southern California during Chef Martin's long tenure. However, after a dozen years of pouring his heart, soul and life into the endeavor, he decided that it was time to change course, and ultimately sold the establishment to a close friend who was an experienced restauranteur.

As it turns out, Chef Martin is also a longtime kayaker and avid sportfishing enthusiast who knows, respects and truly understands how to expertly prepare nautre's many gifts from the world's oceans. Over the years, his close physical proximity to our numerous rescources for fresh, high quality fish and other seafood products has allowed him to masterfully develop innovative recipes that might otherwise be difficult to create in a region which was land-locked; far from the briny deep.

This is perhaps one of the many reasons why he has been so successful during his past few years as Chef du Cuisine at the well-known Bali Hai Restaurant on Shelter Island. This is a place that revels in serving guests one of the widest varieties of seafood preparations in town. He not only has a proven dedication to the creation of upscale cuisine, Chef Kim Martin is also passionately in love with the food that he prepares …especially when it happens to come from the sea.
---