Vito Sciannamea
Executive Chef
---
---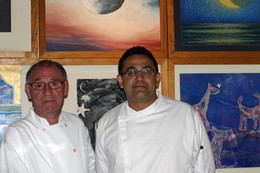 Vito Sciannamea's style can be summed up in a few words: he cooks based on experience. Experience, however, refers not only to his impressive 40-plus year career crafting fine Italian cuisine, but what he learns every day in the kitchen. As the Executive Chef at Bella Luna, Sciannamea spends much time creating new dishes and daily specials, but he also pays attention to the guests. Always wanting to please, he stays attuned to what is going on in the dining room, watching what dishes get ordered and how the dishes are received. If a dish he introduces is popular—such as his stunning Pear Ravioli with Marscapone sauce—he ensures it stays on the regular menu. Over time, if he notices trends, such as diners in San Diego tending to order seafood and fresh vegetables, he ensures his menu reflects them. His approach means that Bella Luna is able to maintain a wonderfully concise menu that is filled with dishes that are guaranteed to be good.
While he always aims to please at Bella Luna, Sciannamea can think of no greater pleasure than to "cook the Italian way." Although he has lived in San Diego since 1986 and in the United States since 1966, he still loves the cuisine of his home country. The traditions are very different in Italy, he insists, and there are things that even the most authentic Italian restaurants in America don't do. At meals in Italy, for example, salads are always served after the main course, and there are ingredients, such as olive oil, that taste completely different.
Prior to Bella Luna, Sciannamea was no stranger to bustling kitchens and vibrant food. He was born into the culinary world, with his family in the restaurant and pastry business in Rome, where he was born, and Milan where he grew up. His first experiences in the kitchen came young in life, when he would work in his family's restaurants. He decided to attend culinary school to expand his options—to be able to work for other restaurants besides his family's—and eventually went to school on the outskirts of Milan. With high marks in school, he was recommended to some of the best known restaurants upon graduation.
Sciannamea first came to the United States over 40 years ago, after accepting a job as a chef on a cruise ship. He intended to return to Italy, but during a stop in New York, a restaurant offered him a job that was "too good to refuse." Thus began his career in this country, working in New York, Miami, Atlanta, Las Vegas, and finally, San Diego. Along the way, he opened several restaurants, worked as the head chef for others, all the while committing himself to recreating the flavors and dishes of his homeland. "There have been so many I can't name them all," he reminisces.
While the cuisine Chef Vito serves at Bella Luna may not be completely authentic by his strict standards (he only cooks "the Italian way" at home), it is very much in the Italian spirit, prioritizing quality, freshness, and preparations from scratch. The kitchen at Bella Luna can attest to this, as can Bella Luna's Chef de Cuisine Frank Pazos, who works alongside Sciannamea. Everything is prepared in-house, including fresh pasta and gnocci, thick, flavorful sauces, and top-notch desserts. Quality is of the utmost importance, produce is sought out from local farms, and seafood— Sciannamea's favorite—is flown in fresh from the sea.
---