Luis Martinez
Chef
---
---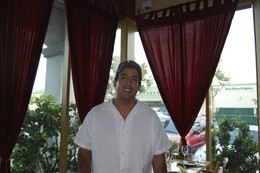 A man of few words, Luis Martinez is no Gordon Ramsay. But one thing he does have in common with the foulmouthed Scottish chef is his passion for cooking: get him on the subject of food and his eyes light up straight away.
So just how does a Mexican chef come to be at the helm of a restaurant specializing in California-Italian fusion cuisine? Martinez spent five years working directly under Ron Guidone at Talia's and Mangiamo, both Italian restaurants in Manhattan Beach, before moving to Lido in 1991. The occasional nod to his motherland can be found here, in dishes such as the taco salad on the lunch menu, but Latin American touches are otherwise kept to special events, such as a recent Saturday Colombian night, when empanadas were served.
When asked how he keeps things fresh after 17 years at the same restaurant, Martinez cites his love of experimentation. Having daily specials allows him to innovate, in particular when it comes to sauces—a recent special, for example, was almond-crusted halibut with citrus sauce—and side dishes, such as spinach or artichoke mashed potatoes.
The freshness of ingredients is important to Martinez. With the exception of ice cream, everything at Lido is made from scratch, including the bread, pastas, salad dressings, sauces, and desserts. And quality is a high priority, too: Martinez shops at the produce market in Downtown LA, taking his time picking out only the best items. This has the added bonus of cutting down on costs, as the fruit and vegetables sold there are in season and local.
Indeed, aware that 'seasonal' is the buzzword of the industry these days, Martinez is collaborating with Lido's owner, Lisa Hemmat. to come up with a new, condensed menu that focuses on a repertoire of Lido's best fare. Out will go the long, potentially overwhelming menus, and in will come a shorter menu with more seasonal dishes. The good news for regulars is that Martinez plans to keep the restaurant's signature items – the filet mignon, the ahi tuna tower, the angel hair pasta with scallops and prawns – because, as Hemmat points out, "The locals trust Luis, they trust the menu."
Martinez will also work with Hemmat as she works to increase the number of events held at Lido. The restaurant already stages an interesting roster of instructional yet fun, hands-on cooking classes, hosted by local chefs – recent classes teaching brunch dishes, fondues, and Greek and Spanish specialties have all been hits – and Hemmat would like to add more. Plans are also underway to renovate the enclosed patio, a versatile space that's great for special events such as corporate events and baby showers. And that's not forgetting the music-oriented nights focusing on the likes of tango and classical guitar. Phew!
Lido's longtime fans needn't worry, though: the focus for both Martinez and Hemmat is still the food, we're just excited to see what they'll serve up next.
---