Daniel Diaz
Kitchen Manager
---
---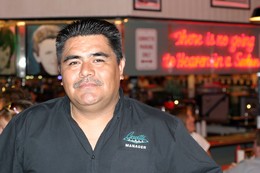 An ode to the oldies-but-goodies; a good-natured joke on bouffant hairdo's and poodle skirts; and an all-round good time, the Corvette Diner means a lot of things to a lot of people. Opened in 1987, and enjoying a perpetual existence in the 1950's, the Diner has catered to multiple generations of patrons for over twenty years. For many mature visitors, the retro-themed décor and menu offers the unique opportunity to go back in time and savor a bit of their own past; while many younger guests get the chance to actually step into all those black-and-white sitcom reruns for a meal worthy of Technicolor.
The man behind the wonderfully nostalgic menu is Chef and Kitchen Manager Daniel Diaz. Chef Diaz has worked with the Cohn Restaurant Group for twenty one years, and has managed the Corvette Diner kitchen since 1999. Meeting Chef Diaz in the bustling Corvette Diner dining room for the first time, it is obvious that his gracious personality contributes greatly to the hearty and inviting menu of comfort food staples and unpretentious quality fare. However, one might not expect that cooking was not Mr. Diaz' first dream. Evidently, soccer called to a young Daniel growing up in Cuernavaca, Mexico. Fortunately for happy diners everywhere, Diaz eventually turned his attention from the soccer field to the kitchen, and began to groom himself for the successful career he'd soon enjoy. It is mentioned that The Chef still plays soccer, but for the sake of all our appetites I for one hope he never goes pro.
Diaz is a self-taught chef who worked his way up in the ranks to gain the influential position he has now. David and Leslie Cohn first hired him as a kitchen hand for their restaurant Galaxy Grill, in Horton Plaza, in 1988. From there he proved through his skill and commitment to his craft that he was capable of being a great leader in the kitchen. The fruits of his hard labor paid off in 1999, when Chef Diaz took the reigns of the Corvette Diner's original location in Hillcrest. Today, he is still acquainting himself with the brand new appliances and set-up of the new Corvette Diner, and is eager to note that "It is every chef's dream to have a new kitchen." Though, Chef Diaz must concede, "I'm still a little afraid to touch things… I don't want to break anything."
While the Corvette Diner kitchen is gleaming with newness, Chef Diaz chose to improve upon the already popular menu rather than switch out dishes for entirely new selections. "Everything is done in-house now. We make our own breading, and rely on fresh ingredients." Many return customers, especially children, have favorite menu items that they come back for time and again – malts and shakes like the Green River and Black Cow may be considered by some to be staple accompaniments to meals such as the Brenda Burger and the Sophia Loren Spaghetti and Meatballs. And The Chef himself admits that certain dishes are just fine the way they are. His personal favorite menu item is the Chicken Polka Pasta, which is made with blackened chicken, a rich parmesan cream sauce, penne pasta, and fresh tomatoes. After experimenting with the recipe a bit, Chef Diaz decided, "The original dish tasted better, so I went back to it." Wise individuals know when to leave well enough recipes alone.
There are a couple dishes on the menu that stand out as eccentric additions. The Rory Burger description reads like a mad scientist experiment gone-wrong: "our money back guaranteed to please burger with peanut butter, bacon, lettuce & mayo (Elvis would love this one)." An unofficial post-humorous endorsement by The King is great, but peanut butter on a burger? Really? Well, there's reason Elvis is The King: his taste in all things wedged between two slices of bread is impeccable. Chef Diaz can't take the credit for this unconventional culinary masterpiece as it is named after a personal friend of the Cohn's, but he does appreciate its quirky appeal. In fact, Chef Diaz has been recruited by some diners to add yet another layer of kookiness to this already odd sandwich. "One diner asked me to make a peanut butter, bacon, and chili burger… This was the strangest request I've gotten." I doubt even Elvis would stand behind that one.
Chef Daniel Diaz' generosity and joy in his work is obvious and inspiring. The light-hearted enthusiasm and joy that radiates from the front of the house is not lost on him in the kitchen, and he brings it to every table, on every plate. From the strangely wonderful Rory Burger to the comfortingly delightful Meatloaf, Chef Diaz infuses each dish with sincerity and care. The Corvette Diner is a time capsule for the good ol' days, and Chef Diaz' food is a timeless expression of joyful cuisine.
---