Aaron La Monica
Executive Chef
---
---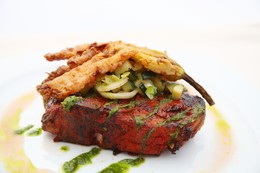 Delirio's Executive Chef Aaron La Monica boasts over 13 years of enriching experience in the restaurant industry. Raised in Sun Valley Idaho, La Monica began his career working in many of the restaurants in the small resort town. His passion for food and wine brought him southern California, where he chose to continue his professional career in San Diego's booming culinary scene.
Soon after La Monica arrived, he heard of a local restaurant using a hands-on approach, with seasonal, fresh produce from local farmers. Attracted to this approach, Aaron joined the staff of Nine-Ten Restaurant, where he worked alongside Chef Michael Stebner. La Monica remained at Nine-Ten for many years, even after Stebner left to work on his own restaurant project, Region. After Stebner's departure, La Monica worked alongside Nine-Ten's Jason Knibb, helping to develop Nine-Ten into the local hot-spot it is today.
Soon, La Monica was again drawn to the culinary styling of Chef Michael Stebner, and left Nine-Ten to join Stebner at Region. There, La Monica worked as Sous Chef for the next two years, helping Region become a top local restaurant. While working at Region and developing relationships with local farmers, La Monica created the salumi program, which is the in-house creation of hand-crafted sausages and salamis. La Monica continued to excel in his profession, and held a vital role in local and sustainable-food oriented "Roots Foundation" events. La Monica's hard work and dedication was truly beginning to pay off as he caught the attention of Chef Jeff Jackson at The Lodge at Torrey Pines. After Region closed, and after a quick stay in France, La Monica joined Chef Jackson and was welcomed by the team at the Lodge at Torrey Pines.
When the opportunity to become Executive Chef at Delirio's arose, La Monica jumped at the chance. Joining the restaurant in early 2007, he explained: "I am excited to join the team and to bring something new to San Diego."
The sentiment, of course, is mutual. "I am very happy to work with Aaron La Monica," says Delirio's General Manager and Wine Director Jerome Astolfi. "He is a very talented Chef and I like what he is trying to do here at Delirio's, which is combining California Cuisine and ingredients from Baja Mexico. We now have a very dynamic, interesting restaurant, unlike any other in San Diego and I am excited to start pairing wine with [La Monica's] tasting menus."
---