Giovanni
Chef
---
---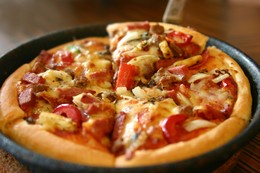 Few partnerships yield such delicious results as that of Mikel Lorja and Chef Giovanni. This dynamic duo started their run together with the beginning of Florencias Ristorante and Pizzeria in North Park. While Mikel Lorja is the owner of the restaurant, Chef Giovanni is the master of the kitchen. He plays a large role in the creation of the menu, inventing dishes that play up seasonal ingredients while staying true to his heritage.
Chef Giovanni was born and raised on the island of Sicily, Italy, where he learned to cook at a young age. He mastered the skill quickly, and worked in kitchens as a chef for seven years before moving to the United States. It was around this time that Mikel Lorja was looking for a chef. The two met, and Florencias became especially appealing to Chef Giovanni when Mikel gave him the opportunity to not only cook from traditional menus, but to also help design the menu. Winter and summer are Chef Giovanni's two favorite seasons because they allow him to play with the menu the most. Summer allows him fresh ingredients to try out in original dishes, while winter reminds him of all the traditions that are present within his family recipes. His favorite dishes from Florencias' menu include the Fettucine Alfredo and the Eggplant Parmigiana.
Mikel Lorja, the other half of this pair, has been in the restaurant business for 18 years. He opened up Florencias Ristorante and Pizzeria ten years ago to satisfy his yearning to run a restaurant. While he still spends time cooking, his favorite part is managing the restaurant and interacting with his customers. His animated personality makes him the ideal candidate for this portion of the job. He feels that the atmosphere of Florencias combined with the quality of the dishes is what makes his restaurant a success. He highly recommends the Lasagna and Florencias' specialty Pizzas to anyone who asks.
These two men are almost exact opposites: where Mikel is energetic and boisterous, Chef Giovanni is quiet and modest. Despite their differences, the two are united in their desire to make Florencias the best Italian in North Park. The two have reached a balance in their personalities, and under the leadership of these two men, Florencias is the place to enjoy a traditional Italian meal.
---