Jose Kelley
Executive Chef
---
---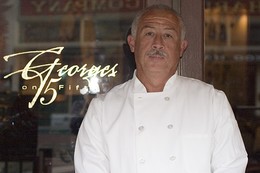 Even after thirty years in the restaurant industry, Executive Chef Jose Kelley is humble about his talents. When asked about the kitchen he runs at Georges on Fifth, Kelley smiles, graciously claiming "There's not much to what I do." Anyone dining at Georges, however, might think otherwise after sampling expertly prepared steaks, seafood, and game from Kelley's kitchen.
"We serve quality ingredients that are prepared simply," Kelley explains, which seems a bit of an understatement. The ingredients used at Georges are not only quality--they are some of the best available. The steaks range from USDA Prime to Kobe, the seafood is exclusively fresh, and the vegetables purchased from a local family-run operation. While Kelley may prepare certain dishes "simply," this is mainly because the high quality entrees need little to accompany their sumptuous flavor. Other dishes it should be noted, such as the Tower of Tropical Tuna Tartare, involve preparation and presentation that are certainly not as simple as Kelley claims.
Kelley's career has led him from part time line cook to Executive Chef, taking him through many fine San Diego restaurants. After high school, which he attended in San Diego, he worked at Cafe Pacifica, Rainwaters, and 5th & Hawthorne. As each of these restaurants emphasized steaks and seafood on their menus, they allowed Kelley to gain valuable expertise on quality meat and seafood preparation.
For the six years he has been at Georges, Kelley has been commanding the historic building's small kitchen, which he finds a comfortable challenge. Six days a week, Kelley stations himself at the most important spot in the kitchen: grill side.
Kelley is more than eager to share his knowledge about how quality steaks are best prepared, and his formula is simple: the better the meat, the rarer you should eat it. This, he explains, is because much of a fine steak's flavor is lost through the cooking process. He recommends ordering USDA Prime steak no more cooked than medium rare, since all the flavor of a high quality steak is lost when cooked to medium or longer. By ordering a Prime steak medium—Kelley almost cringes—"you could be eating any kind."
Kelley explains that it takes a sophisticated palate to discern the difference between Choice, Prime, and Kobe, just as it does to tell a $50 bottle of wine from a $100 bottle. What better place to develop your taste than Georges on Fifth?

---