Salwinder Khinda
Chef
---
---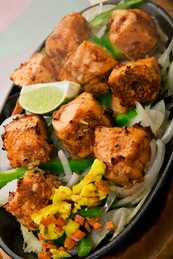 Chef Salwinder Khinda was born in India and came to the United States only seven years ago, but not before making his culinary mark in Europe first. In 1977, Chef Khinda moved to Germany from the northern part of India and began work as a line cook. Vocation became adoration, and Chef Khinda developed his love of cooking while in Germany, where he lived and refined his culinary skills for twenty-five years, becoming a chef at a French restaurant as well as an Italian restaurant called Cafe Literaturhaus. He is fluent in Punjabi, Hindi, German, and English, but his food speaks volumes.
His son Gubi traveled and lived with him in India and in Europe, but most of Chef Khinda's family resided in the United States, primarily in Los Angeles. So in 2003, Gubi and his father Salwinder moved to California and opened an Italian restaurant in Old Pasadena. Four years later, Chef Khinda and Gubi noticed the demand in the market for Indian cuisine. Fortunately for us, Downtown San Diego offered the space that is now Gourmet India, where Chef Khinda and Gubi serve fine Indian cuisine, using fresh ingredients, experience, tradition and ingenuity to bring San Diego flavors they didn't even know they were missing.
Some Indian dishes contain numerous herbs and spices. What makes Indian food unique, in your opinion?
Indian cuisine uses approximately 40 herbs altogether, although most dishes contain between eight and ten. The spices and herbs used are not always the same. Furthermore, each spice is regional. India is rich in spices -- the Romans, English and Portuguese have enjoyed and traded for Indian spices for centuries -- in India, spices are our gold.
Please give an example of such a dish - why are certain herbs and spices chosen? Is there a specific dish with flavor, texture, aromatic properties?
Our Nirvana Chicken, which is prepared with ginger, mustard seeds, onion and coconut milk, is my own creation, it wouldn't be found on other menus, but it is India.
What is distinct about Indian cooking methods, techniques and equipment?
At Indian restaurants, you will find one large clay oven. Most dishes are baked within the clay oven - meat, lamb kebabs, fish, even crackers. Indian cuisine utilizes baking, not a lot of deep frying. Many of the appetizers we offer are fried, but flash fried.
Is GOURMET INDIA the only culinary venture for you and your son?
Before we came to San Diego, we had a restaurant in Los Angeles. We [Chef Khinda and son, Gubi] are looking at the possibility of opening up another Indian restaurant somewhere in San Diego.
What is the single, biggest influence on your cooking?
My native country of India.
What is a core philosophy of yours in cooking, a theory or belief that has been a factor in your career?
That is a three part answer. Most important to me are the use of fresh ingredients. I use what is fresh and in season as often as I can. And cleanliness, I can't emphasize that enough. Discipline is needed to succeed. For example, the gravy for the Chicken Tikki Masala requires several hours to prepare. You must start that (and many other things) at the beginning of each day. Just making a sauce at 3:00 p.m. will not produce the quality you want as a chef.
What is a typical meal you cook for yourself at home?
Mostly vegetarian, and not necessarily Indian. At home for dinner I will prepare a lot of salads, using the freshest possible vegetables. I also make a lot of simple pastas. When I do cook Indian at home, it is usually Dal.
What is the first thing you learned how to cook?
The first Indian food I cooked was Chai and Paratha in India. Professionally, Italian food while in Germany.
What is your favorite meal to prepare and/or what dish you think best represents Indian cuisine?
I am from the Northern part of India, and a distinctive, regional dish for us would be Saag - Saag Paneer, Saag Aloo, Chicken Saag. As far as the southern part of India, a regional dish would be Masala Dosa. But all over India, you will find people cooking Dal. This dish of stewed lentils can be from one type of lentil - black, yellow, or red - or a combination of red and yellow, for example. You will find Dal in the homes of peasants and the homes of kings, in a temple or a mosque.
---